Taekwondo Grand Prix: Walkden seeks Rio Olympic bid boost
By Nick Hope
BBC Olympic sports reporter
Last updated on .From the section Taekwondo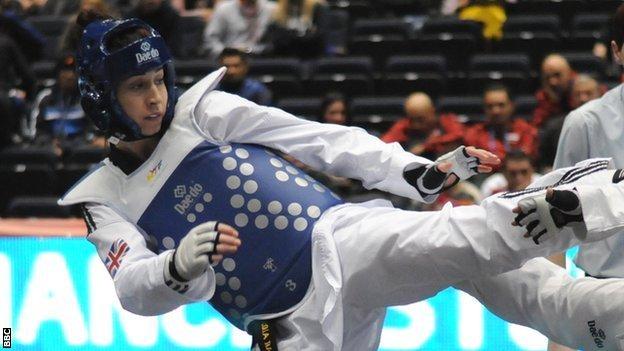 Britain's Bianca Walkden hopes her confidence-boosting success at the European Championships will kick-start her bid to reach the 2016 Rio Olympics.
Walkden, 22, is preparing to compete in the first Taekwondo Grand Prix of the year, in China on Friday, after winning her maiden European title in May.
A win would take her closer to the top-six world ranking she needs by the end of 2015 to guarantee a place in Rio.
"The results are looking good so it's just about keeping that up," she said.
Despite winning numerous 'Open' titles, Baku 2014 was the first time the +67kg world number 12 - who missed out on selection for London 2012 - had finished on the podium at a major event.
British World Taekwondo Grand Prix fighters:
Friday, 4 July: Mahama Cho (+80kg); Bianca Walken (+67kg)
Saturday, 5 July: Aaron Cook, Lutalo Muhammad, Damon Sansum (-80kg)
Sunday, 6 July: Michael Harvey, Ruebyn Richards (-68kg); Jade Jones (-57kg)
"I just had to forget everything that's happened in the past," Walkden told BBC Sport. "It was a huge weight off my shoulders and shows my progress.
"Missing the Olympics was so tough but I've pushed myself really hard in training."
Walkden is joined in a seven-strong GB team by Olympic champion Jade Jones for what is only the second World Taekwondo Grand Prix.
Manchester hosted the first edition, with British fighters winning four medals.
Damon Sansum, who has since won European silver, says not being selected for that event gave him added motivation.
Sansum competes in the -80kg division, also featuring London 2012 bronze medallist Lutalo Muhammad and his European conqueror Aaron Cook.
Former world champion kick-boxer Sansum told BBC Sport: "The standard at -80kg is so high and only one of us goes to the Olympics, but any of us could win the gold in Rio."
GB Taekwondo performance director Gary Hall is looking for "two or three" medals in Suzhou.
"We have the quality to do the same as we did in Manchester," he said.
"In two years' time we will be just about to depart for Rio - and these grands prix carry very important ranking points."
The final World Taekwondo Grand Prix of 2014 will be held in Manchester from 24-26 October.