Aaron Cook set to swap Britain for Moldova at Rio Olympics

By Nick Hope
BBC Olympic sports reporter
Last updated on .From the section Taekwondo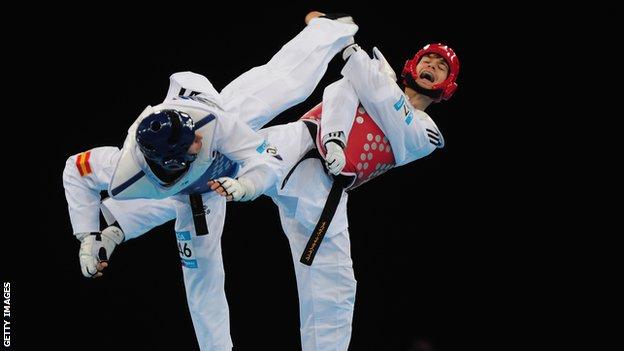 British world number one taekwondo fighter Aaron Cook has requested to switch allegiance to Moldova for the 2016 Rio Olympic Games.
The 24-year-old was born in Dorset and has no family links to the country.
But he had his nationality approved via funding from Moldovan billionaire Igor Iuzefovici, president of the country's taekwondo federation.
Three-time European champion Cook was surprisingly overlooked for the Team GB squad for London 2012.
It was a decision he believed stemmed from resentment after he to quit the British academy a year ahead of the Games. It is a claim the GB setup has always denied and their chosen athlete Lutalo Muhammad went on to win bronze.
Cook has refused to compete under the 'Great Britain banner' since 2012 - until the current management leave - and has instead fought for the Isle of Man, with the initial expectation that he would revert to GB for the Rio Games.
He began fighting for the Isle of Man in 2013 but is still eligible for Team GB.
However, with British Taekwondo yet to formalise their Rio selection policy he is concerned they would again overlook him and Cook has written to the British Olympic Association [BOA] to request clearance to compete for Moldova.
The fighter attained Moldovan citizenship in late 2014 - a move which has been approved by the World Taekwondo Federation [WTF].
Under the Olympic charter three years must pass between an athlete representing one nation and another.
The last time Cook competed for Great Britain was at the 2012 European Championships in May of that year, meaning he could potentially fight for Moldova at the inaugural Baku European Games in Azerbaijan in June this year.
However, in order to speed up the process he needs approval from the BOA, which said in a statement: "We are aware of the situation and nationality change request.
"The BOA will be liaising with all parties to carefully consider the request."
Details of a breakdown in the relationship between GB Taekwondo performance director Gary Hall and Cook emerged in 2011 when the fighter quit the national academy and recruited his own team.
Rio qualification
The top-six ranked athletes in each of the Olympic weight divisions at the end of December 2015 are in theory guaranteed places at the Rio 2016 Games.
However, each nation can only select one athlete, meaning if Team GB, for example, had two fighters in the top-six, one would miss out.
There is no rule stating the highest-ranked fighter has to be selected.
Cook is concerned that even if he were ranked world number one, GB could select a lower-placed fighter - as happened for London 2012.
Talks were held last year between representatives from the BOA, GB Taekwondo and Cook's camp with the aim of finding 'common ground', but no progress was made.
The three-time European champion first revealed that he was considering a change in nationality shortly after the London Olympics.
Cook stated he would only switch to a country which had no rival -80kg fighter as he did not want to deprive another athlete of the chance to represent their home-nation.
It is understood this is behind a decision to turn-down a lucrative deal to represent Turkey, while France, Costa Rica and Venezuela also bid for his services.
Should Cook complete his switch to Moldova it would leave a two-way fight between London Olympic bronze medallist Lutalo Muhammad and Damon Sansum for Britain's place in the Rio -80kg division.