European Games: British-born Aaron Cook has 'let Moldova down'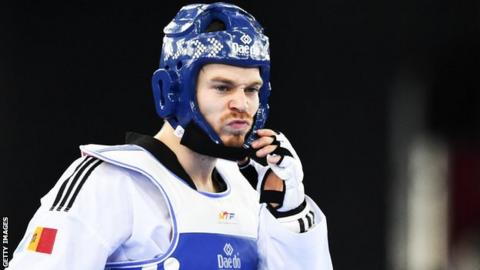 British-born fighter Aaron Cook says he has "let Moldova down" after failing to reach the European Games semi-finals with his adopted country.
The 24-year old competed for Great Britain at the 2008 Olympics but switched allegiance after being overlooked for London 2012, despite being world number one at the time.
Lutalo Muhammad, who was selected instead and won bronze, added another bronze in the men's -80kg in Baku.
"I'm very disappointed," said Cook.
"This is only my second competition for Moldova and the support has been fantastic. I came here for the gold medal and I feel like I've let them down today."
Cook, the highest-ranked competitor in Azerbaijan, was beaten 8-7 by Portugal's Julio Ferreira after a golden point round, while Team GB's Muhammad defeated Italian Roberto Botta 12-7 after coming through the repechage.
In his first competition for Moldova at the World Championships in May, Cook, whose citizenship was funded by billionaire taekwondo president Igor Iuzefovici, won a bronze medal.
Explaining his decision to represent the eastern European nation, he said it had "never been about money".
"I'm going to support Britain for the rest of my life but I have to do what's best for me," he told BBC Sport.
"I've realistically got six years left on my career and I didn't want to wait around and potentially not get selected again even if I was the highest ranked.
"It's always been about opportunity. Moldova were the first country to approach us and they said they would make everything happen very fast. I owe everything to them and now I have to prove that I am the best."