Lutalo Muhammad: Taekwondo Olympic rules unfair on top nations

By Nick Hope
BBC Olympic sports reporter
Last updated on .From the section Taekwondo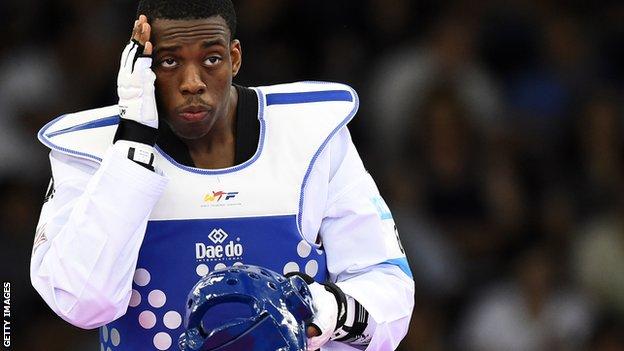 Limiting leading taekwondo nations to one athlete per division at the Olympics is "unfair", London 2012 bronze medallist Lutalo Muhammad says.
Cook has since defected to Moldova, but Muhammad is now battling world silver medallist Damon Sansum for GB's sole berth in the -80kg division.
"Situations like this warrant reforms in our sport," Muhammad told BBC Sport.
Muhammad and Sansum are part of a 14-strong Great Britain squad for the the World Taekwondo Grand Prix in Manchester this weekend.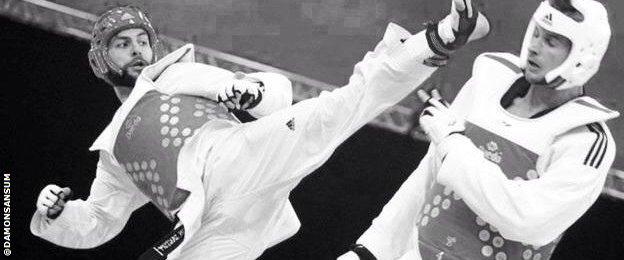 Of the 16 taekwondo weight divisions - across male and female competitions - only eight (four for each gender) are contested at the Olympics.
"Half of the world champions in the sport don't get to go to the Olympics and, almost to add insult to injury, only one per weight can get picked," said Muhammad.
Sansum is currently fifth in the Olympic rankings and Muhammad seventh, with one of them needing to be inside the top six at the end of the year to secure Britain a -80kg place for the Rio Games.
But Muhammad believes GB selectors should not have to choose between them.
"Is it fair to have two strong athletes qualifying to go to the Olympics but only one will go at that weight, and yet someone will get a spot through winning a tournament in a far weaker region in the world and then probably go out in the first round?
"I would hope that things can change and reform before the next Olympics so that others can get the opportunity to go."
The Olympic bronze medallist does, however, believe he learned a lot from his experiences prior to London 2012, which saw a hate-campaign build up against the fighter after Cook contested Muhammad's selection.
"No other athlete had to go through those circumstances so it made me tougher mentally and I do try and translate that into the ring," he said.
"A lot of athletes wouldn't envy my position, being pushed so hard by another athlete within your own set-up, but honestly I relish it."
You can hear more from Lutalo Muhammad and rival Damon Sansum on BBC One's Saturday Sportsday, 12:50 BST.