Caroline Facer: British taekwondo fighter dies aged 34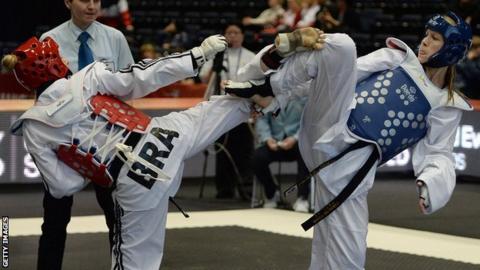 Former GB Taekwondo fighter Caroline Facer has died two years after being diagnosed with breast cancer.
The 34-year-old, then Caroline Fisher, won -53kg bronze at the 2012 European Championships and was reserve for Jade Jones at London 2012.
She retired after competing at the 2014 Manchester World Taekwondo Grand Prix.
Former world champion and former team-mate Sarah Stevenson called Facer an "incredible person and inspiration" in a post on her Instagram account.
She leaves a two-year-old daughter, Charlotte, and husband Stuart.
"Caroline was admired loved and respected by everyone in the taekwondo community both here in the UK and overseas," said British Taekwondo in a statement.