World Taekwondo Championships 2017: Bianca Walkden reaches semi-finals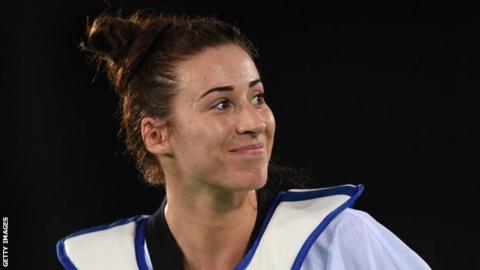 Britain's Bianca Walkden secured at least bronze at the World Taekwondo Championships by reaching the +73kg semi-finals in South Korea.
The Rio Olympic bronze medallist is the defending champion in the division.
Walkden received a bye in the first round and beat Argentine fighter Leonor Esteban Rojas 20-1, before dispatching Croatia's Melani Adamic 26-8 in the last 16.
In the quarter-finals, Walkden claimed a 10-1 win over Russian Olga Ivanaova.
Fellow Briton Max Cater impressively won his opening two -58kg fights before losing 16-5 to home favourite Jeong Yun-jo in the last 16.
Walkden, who became only the second British taekwondo fighter to claim World Championships gold at the last edition in 2015, will contest her semi-final on Wednesday.
"A lot of this is a mental battle," she told BBC Sport. "I've almost had to give up my old world title to start afresh and see if I can almost win it back.
"Two years ago I was coming back from a ruptured ACL, so it was hard for me to be there, let alone win, whereas this time there's more pressure because I know I'm healthy.
"I have more confidence now in what I can do and how we train.
"I would rather all the fights be on the same day [as has been the case at all major events since London 2012 until this one], but it isn't bad now knowing I'm through."
Olympic silver medallist Lutalo Muhammad will also be in action on Wednesday for the first time since his agonising defeat in the -80kg final at Rio 2016.
The 26-year-old Briton is hoping to claim his first medal at a World Championships.