World Grand Prix: Jade Jones wins silver on return to action in Morocco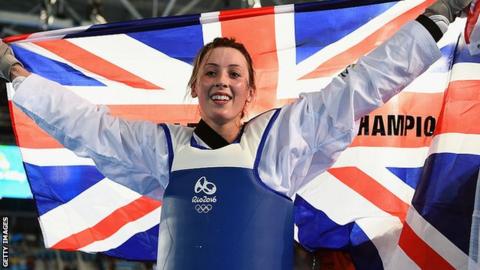 Britain's double Olympic champion Jade Jones marked her return to competition with silver at the World Taekwondo Grand Prix in Morocco.
Jones, 24, was competing for the first time since claiming bronze at the World Championships in June.
"I came here for gold and I was short of where I need to be, but the hunger and desire is coming back," she said.
Jones was beaten 8-6 by Turkey's Hatice Ilgun in the -57kg final as Britain claimed their third medal of the event.
Bianca Walkden and Mahama Cho won golds on Friday.
Jones beat Portugal's Joana Cunha 9-2 in the quarter-finals and Serbia's Marija Stetic 16-7 in the semi-finals.
Jones' next event will be the Grand Prix in London on 20-22 October.
"I got bronze at the Worlds and silver here, so it's up to me to make it gold in London," she told BBC Sport.
"It's where my Olympic journey began and it's the perfect place to get on track for Tokyo."
Briton Bradly Sinden, the world bronze medallist, was beaten 18-14 by Mexico's Saul Guiterrez in the last 16 of the -68kg catergory, while Peter Longobardi-Radford lost 7-6 to Taiwan's Yu-Jen Huang of Taiwan in the quarter-finals.