Taekwondo: Jade Jones' ex-coach Paul Green & Gareth Brown join USA programme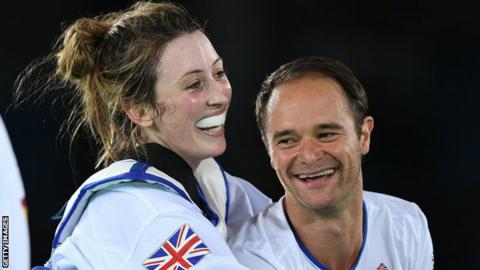 Coaches Paul Green and Gareth Brown have been recruited by USA Taekwondo less than a month after resigning from the British programme.
Green guided Jade Jones to two Olympic titles before helping Bianca Walkden defend her world title this year.
He and Brown have been appointed in a bid to reinvigorate the United States' prowess in the sport before the Los Angeles Olympics in 2028.
"I'm excited and thankful for the opportunity," said Green.
He had refused to disclose the reason for leaving the British set-up, but told BBC Sport earlier this month that he was "devastated" to leave.
Green had not coached Jones since a disagreement with the fighter over her decision to take part in Channel 4's The Jump programme earlier this year.
However, their relationship had improved in recent months and they joined forces with Brown to deliver a training camp in Texas in early November.
"Having seen the talent you have in America on our recent trip there, I truly believe we will help make the USA into the leading force they can and should be," said Green, who competed at the 2004 Olympics.
The USA won Olympic gold medals through legendary fighter Steven Lopez at Sydney 2000 and Athens 2004 Games, but have struggled in recent years and took just one bronze, through Jackie Galloway, at Rio 2016.
"The US program has been depressed for years - there is no hiding from that - and we are all working hard to jolt it back into life," said US high performance director Mayumi Spence.
Executive director Steve McNally added it was "quite a scrap to get this done" with Green and Jones "in huge demand around the world".
Green and Brown, who said he "can't wait to get started", will begin their roles in February.