Bianca Walkden: GB fighter wins record £52,000 prize at World Grand Slam Series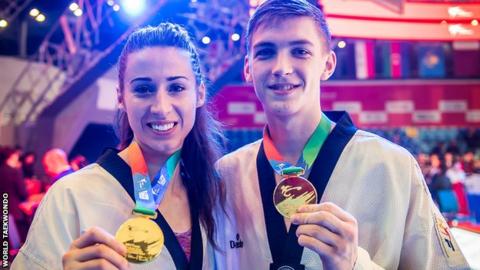 World champion Bianca Walkden claimed gold and the £52,000 record prize fund at the inaugural World Taekwondo Grand Slam Series in China.
Walkden defeated USA's Olympic bronze medallist Jackie Galloway 10-2 in the +67kg final in Wuxi.
The 26-year-old defended her world title and won all four Grand Prix events in 2017.
"Now we've got a house," she said while celebrating her win with boyfriend and ex-GB fighter Aaron Cook.
"Words can't describe it. I just can't believe it," she told BBC Sport. "I didn't fight well all day but I'm going home with the money,"
Britain's Walkden defeated An Saebom of South Korea 14-1 in the quarter-finals before securing her place in the final with a tense 11-0 golden point victory over Nafia Kus of Turkey.
The event - which has taekwondo's largest prize fund - also saw several new competition rules tested which could be introduced for the Tokyo 2020 Olympics.
In addition to new rules to reward attacking play, fights in the final took place over five rounds of two minutes rather than the traditional three rounds.
Russia's Maksim Khramtcov claimed gold in the men's event.
The Grand Slam Series continues next weekend when London Grand Prix winner Lauren Williams, from Wales, will compete in the -67kg division.
World Championships silver medallist Mahama Cho (+80kg) and 2016 World Grand Prix Final winner Charlie Maddock (-49kg) will fight on 13 January before double Olympic champion Jade Jones bids for the -57kg title on 20 January.