Steven Lopez: US taekwondo star banned for life after sex abuse claims
Last updated on .From the section Taekwondo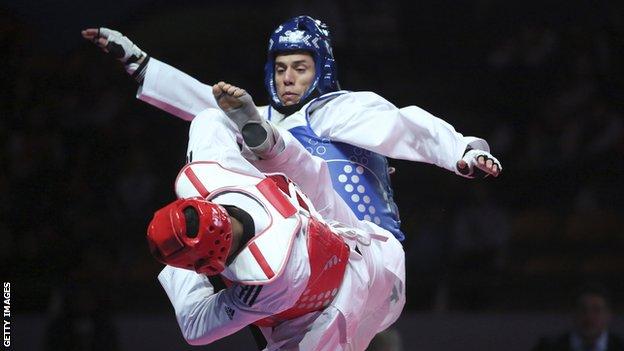 American double Olympic taekwondo champion Steven Lopez has been made "permanently ineligible" from the sport following sex abuse claims.
The ban was handed down by the US Center for SafeSport, an organisation set up to protect the nation's Olympic and Paralympic athletes.
Lopez, 39, who won gold at the 2000 and 2004 Games and is a five-time world champion, denies the claims.
SafeSport said the ban was for "sexual conduct involving a minor".
The body told US media it had investigated the claims of a former athlete who said she was groomed by Lopez from the age of 10 and that the pair had a sexual relationship when she was aged 14.
Lopez's lawyer Howard Jacobs said his client would appeal against the ban because "the allegations are false".
Lopez and his brother Jean - a US Taekwondo coach - were named in a lawsuit filed earlier this year by four female taekwondo athletes who claim to have suffered "two decades of sexual abuse, exploitation and trafficking by the entities, officials, coaches and mentors who were entrusted to protect them".
The US Olympic Committee has given SafeSport the power to investigate and act upon sexual misconduct claims.