Rafael Nadal to play Roger Federer in Miami semis
Last updated on .From the section Tennis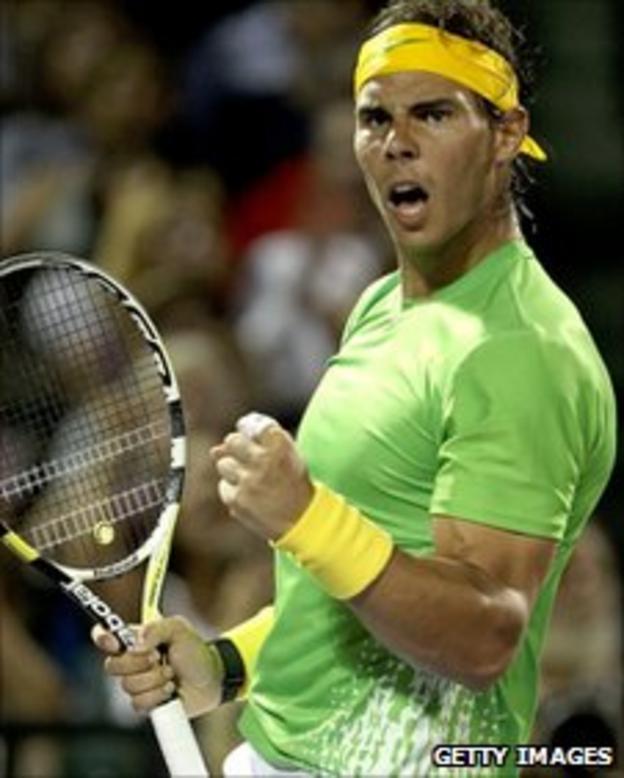 Rafael Nadal will play Roger Federer on American soil for the first time in six years after both men reached the last four of the Sony Ericsson Open.
Federer had much the easier passage as Gilles Simon withdrew from their quarter-final in Miami with a stiff neck after just three games.
Nadal beat Tomas Berdych 6-2 3-6 6-3, despite treatment to his shoulder.
In the women's draw, Maria Sharapova and Victoria Azarenka will meet in the final after coming through their semis.
Simon's retirement after just 10 minutes against Federer was greeted by jeers from the Miami crowd, but the Swiss had sympathy for his opponent.
"He told me he woke up this morning with a stiff neck and couldn't move," said Federer. "It's obviously disappointing when it happens in front of an audience.
"You get booed off the court - that's rough. It's not the way you want to move on, but look, I'll take those because they happen quite rarely."
Nadal, 24, required two hours and 17 minutes to see off Berdych and had treatment from the trainer for an apparent right shoulder injury before coming through in the final set.
"Having received constant treatment, Nadal looked in serious trouble in the opening game of the deciding set facing 0-40, but true to his reputation he dug himself out of trouble," said BBC tennis correspondent Jonathan Overend in Miami.
Nadal will now meet Federer in front of an American crowd for the first time since the Miami final of 2005, in which the Swiss took revenge for suffering a stunning upset at the hands of the teenage Spaniard in their first meeting the previous year.
And despite the emergence, and current form, of Novak Djokovic, Federer insisted that it is Nadal who remains his toughest test.
"My number one rival to me it seems is Rafa," said the 29-year-old Swiss. "It doesn't matter how many more times I'm going to be playing all the other guys.
"At the moment, we have that history and nobody can take it away from us. That's why the only thing really missing from us is a US Open match, I guess, and maybe a few other tournaments."
The pair have met 22 times to date, with Nadal winning 14 times, and Friday will see them meet in a semi-final for only the fourth time.
"For me, it's like a really special thing when we play each other, because we play always really important matches," said Nadal.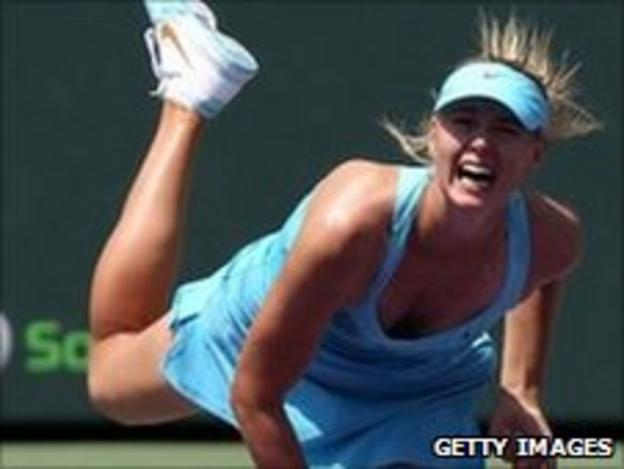 "Tomorrow is a semi-final. Very few times we played in semi-finals of one tournament.
"The rest of the matches are finals and important for big titles. That makes the rivalry very, very special."
Sharapova reached her first final of the year with an impressive comeback as she saw off German Andrea Petkovic 3-6 6-0 6-2.
The Russian former world number one made a slow start to her semi-final, setting the tone for the first set by double-faulting three times in her opening service game as 21st-seeded Petkovic pulled ahead.
However, Sharapova rallied emphatically, cutting out the errors as she reeled off 11 successive games to take the second set to love and put her in command in the third.
Petkovic won two games at the end of the final set but by then it was too late and Sharapova saw out the match to progress to her third Miami final.
The victory brought Sharapova a measure of revenge for her defeat by Petkovic at the Australian Open, which had been followed by the German's now customary 'Petko Dance' in celebration.
"I sensed that she was tired - probably a lot of the dancing that she has been doing," Sharapova joked. "And I took advantage of it."
Petkovic admitted: "By the end of the second set I was getting frustrated with myself because I felt my energy slowly slipping away.
"A champion like Maria, she just feels any kind of weakness, and she just played much, much better."
Azarenka, the 2009 champion, destroyed world number three Vera Zvonareva 6-0 6-3 in the second semi-final.