Rafael Nadal beats Murray to reach Monte Carlo final
By Piers Newbery
BBC Sport
Last updated on .From the section Tennis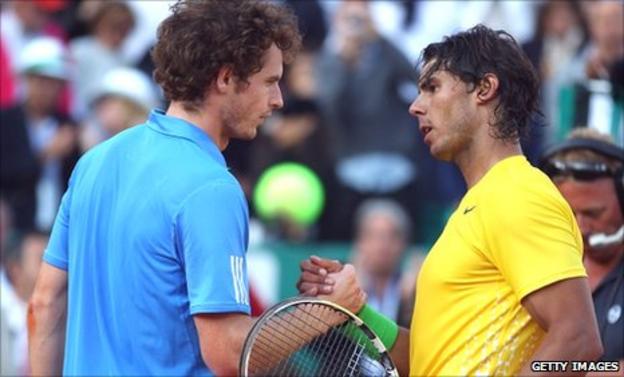 World number one Rafael Nadal remains on course for a seventh successive Monte Carlo Masters title after coming through a stiff test against Britain's Andy Murray in the semi-finals.
The Spaniard won 6-4 2-6 6-1 in just short of three hours to set up a final against compatriot David Ferrer, who earlier defeated Austria's Jurgen Melzer 6-3 6-2.
Murray can take plenty of encouragement from a high-quality display in the second semi-final, especially as his participation was in doubt because of an elbow injury, and that might have played a part as Nadal proved much the stronger in the final set.
"When you do have an injury, it's sometimes difficult to concentrate," said Murray afterwards.
"Against someone like him, you need to play every single point, concentrate from every single point to the last. You can't just throw games, hope to hang onto your serve. You need to play every single point to put pressure on him."
World number one Nadal has now extended his unbeaten record in Monte Carlo to 36 matches, stretching back to 2003, and he has not lost anywhere on clay since 2009.
Saturday's semi-final proved to be one of his tougher tests on the surface he so dominates, although it looked for a time that the contest would not take place at all after Murray felt a problem with his elbow in the morning.
"Yesterday at the beginning of the second set I felt something, but I managed to play through it," Murray added.
"This morning I was hitting, warming up fine. I went to hit some serves; I couldn't serve."
The Scot required a cortisone injection and local anaesthetic, and the match was delayed by 20 minutes, but any thoughts it might signal a swift capitulation proved unfounded.
Murray came out firing, standing up to the baseline and attempting to hit hard, angled drives whenever possible to keep Nadal off his relentless rhythm from the back of the court.
The break points came thick and fast from the outset, the pair swapping breaks at the start before Murray pegged back a 4-1 deficit by coming through a 14-minute eighth game to level at 4-4.
Nadal's higher percentage of first serves was giving him a marginally easier time and, after he eased through to hold in game nine, it was no great surprise when Murray ran out of steam to hand over the set in game 10.
Murray had given as good as he had got for 69 minutes but come up short and the prospect of beating Nadal on clay from a set down appeared remote, but he set about the task impressively.
After seeing off another break point in game two of the second set with a sharp volley, the Briton won a dramatic 19-minute game after eight deuces to move 3-1 in front before a drop shot gave him the double break at 4-1.
Nadal reduced the arrears by getting one of the back in the following game but a double fault from the Spaniard then put Murray 5-2 up, and the third seed closed it out with a beautiful backhand drop shot.
The British number one had the momentum going into the deciding set but Nadal simply brushed himself down and started again, hitting a superb forehand winner off a Murray smash on his way to breaking in game two.
Murray then requested a medical timeout for attention to his elbow but the umpire insisted that, as it was a previous injury and not one sustained in the match, he would have to wait until the next changeover.
The Briton was, not surprisingly, less than pleased with this news as he was 3-0 down by the time the trainer got to work but, no matter what difficulties Murray was enduring, Nadal was typically getting stronger as his opponent struggled.
Three breaks of serve in a row left him serving for the match at 5-1 and, with the match clock seconds short of hitting three hours, he closed it out to love as though it were the first, rather than the last, game of the contest.
"I thought it was a good match, but I think I can play better," said Murray. "It's good to know you're able to play at a similar level to what he does on the clay. To win against him, you need to be able to do that for three-and-a-half hours, four hours.
"The matches that he's lost on clay the last few years have been normally long ones. He's the best player in the world for a reason."
Murray is scheduled to play in Barcelona next week but will decide on Sunday whether he is fit enough to play again so soon.
"Certainly I'll have an MRI scan, maybe tomorrow," said the Scot. "You sometimes get like a bit of bone basically that has fallen off.
"It sounds worse than it is, but it's basically floating around in the joint, so every time I bend it, I get of a lot of, like, clicking. It just feels really bruised because I obviously had a couple of injections. There's blood and stuff going in there.
"It was good because I managed to play, but I would have liked to have finished the match a bit better."