Novak Djokovic beats Feliciano Lopez to win Serbia Open
Last updated on .From the section Tennis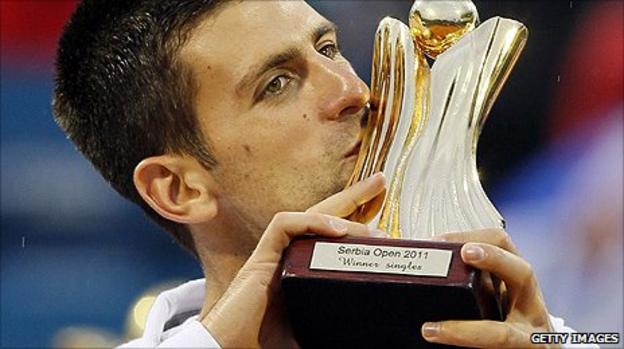 Home favourite Novak Djokovic won the Serbia Open without dropping a set after beating Spaniard Feliciano Lopez 7-6 6-2 in Sunday's final in Belgrade.
It was the 23-year-old Serb's fifth title this year, and stretched his unbeaten record in 2011 to 27 matches.
Djokovic, who won the Australian Open at the start of the year, had an easy path to the final including a first-round bye and a semi-final walkover.
However, he had to save a break point at 5-5 in the first set to prevail.
Djokovic, playing in his home city, romped to a 5-1 lead in the tie-break before wrapping up the set in 73 minutes.
Having served his way out of trouble to lead 2-1 in the second set, the world number two broke serve for the first time in the fourth game and saved another break point in the sixth, before Lopez handed him a 5-2 lead with two unforced errors.
Djokovic receieved a standing ovation from the 5,000 crowd after a pair of superb sliced dropshots and sealed his second Serbia Open title with an ace and a service winner.
"Last night I dreamed of being the hero of the year by beating you here but once again, you showed that you are a truly great player," Lopez said to Djokovic in a courtside speech after the game.
Djokovic, who won the inaugural event in 2009 and had to retire with illness in the early stages last year, was delighted to have won the tournament which is organised by his family.
"I wish to thank my family and my staff for supporting me all these years and also the fans who make this event that much more enjoyable for me to take part in," he said.
"I am really glad that Feliciano had such a great tournament after accepting my invitation to come here.
"We are making a huge effort every year to bring the top players to Belgrade and it's not easy because it takes place only a week ahead of the Madrid Masters.
"Hopefully, we will be able to make it an ATP 500 event very soon and I am looking forward to returning next year."
Meanwhile, Nikolay Davydenko beat Florian Mayer of Germany 6-3 3-6 6-1 to win his second BMW Open title on Sunday.
The seventh-seeded Russian also won the Munich tournament in 2004.
Davydenko broke serve for a decisive 2-0 lead in the final set and breezed through for his 21st title.
"I haven't played that well for a long time," said Davydenko.
And in Portugal, former US Open champion Juan Martin Del Potro beat Spain's Fernando Verdasco 6-2 6-2 to win the Estoril Open for the first time.
The final featured three breaks of serve at the start of the first set, before Del Potro, who was sidelined for most of last year with a wrist injury, took control to close out the set with an ace and never looked back.
"Everything was perfect. I am playing better day by day, tournament by tournament and feel ready to win all of them," the Argentine said.