Elena Baltacha reaches first clay semi at Suez Open
Last updated on .From the section Tennis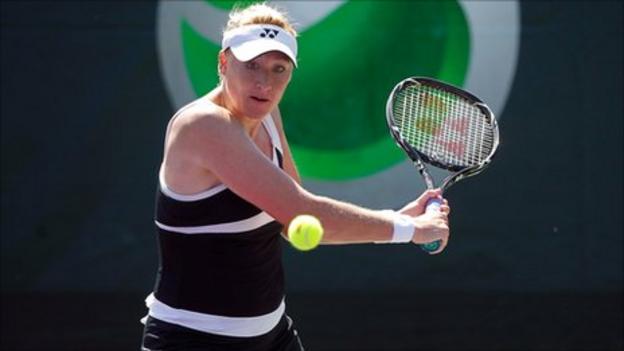 Elena Baltacha reached her first clay-court semi-final by coming from a set down to beat Germany's Kristina Barrois at the Suez Open in France.
The British player, ranked 91st in the world, was a set and a break down but dug deep to win 5-7 6-4 6-3 in the $100,000 (£61,000) tournament.
"I was really calm and really patient," said the Scot. "I stayed relaxed, I was calm and I used my experience."
She will now play either Zhang Shuai or Pauline Parmentier on Saturday.
Chinese player Zhang and Parmentier of France meet later on Friday.
But Baltacha, coached by Nino Severino, who is with her in France, will be in confident mood whoever she faces.
"It's a big win for me because I've never been in a clay court semi-final before and this means a lot," she said.
"I've definitely had a few hang-ups about clay in the past and I've probably never taken the preparation seriously before. The two weeks I spent in Spain at the La Manga Club [last month] helped me a lot.
"That time was very relaxed because my family came over - but at the same time it was hard work and I think it helped changed the way I look at playing on clay."
Referring to her quarter-final win, she added: "She was a break up in the second set but I played smart and stayed calm.
"I think she might have got a bit frustrated. I was really calm and really patient, which is something I've never been able to say in previous years I've played on clay.
"I'm beginning to use my experience on all surfaces. I think I'm finally starting to use my age in a really positive way and it's working for me."