Novak Djokovic ends Nadal's run on clay in Madrid
By Piers Newbery
BBC Sport
Last updated on .From the section Tennis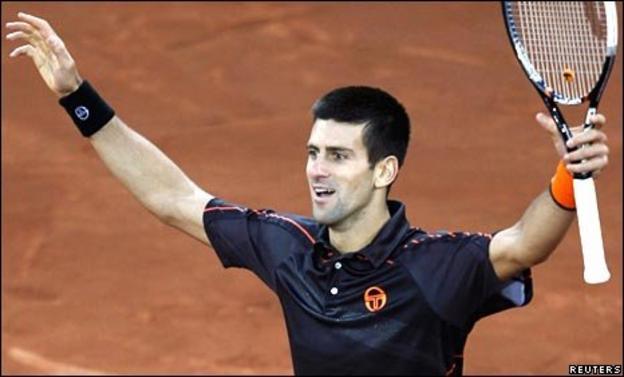 Novak Djokovic inflicted the first clay-court defeat on Rafael Nadal in nearly two years and maintained his own unbeaten start to 2011 as he won the Madrid Open final in straight sets.
The Serbian came through 7-5 6-4 at the Caja Magica to extend his record in 2011 to 32 consecutive victories - the second best start to a season behind John McEnroe's 42 in 1984.
And having ended Nadal's run of 37 straight wins on clay, stretching back to the 2009 French Open, McEnroe's record no longer looks so out of reach.
"Unbelievable," said Djokovic, whose winning streak totals 34 matches including last year's Davis Cup final. "I stepped onto the court today believing I could win. I needed to be aggressive and it was a great match."
Madrid has never been Nadal's favourite clay-court venue because of the faster pace caused by the high altitude, and he will hope that conditions favour him more at next week's Rome Masters and, more importantly, Roland Garros later this month.
"I came up against a great player obviously - he's having a monster year," said Nadal. "He was better, you have to accept that."
Djokovic dictated play for the most part in Sunday's final, his backhand especially impressive, and the rumours beforehand that the 23-year-old was struggling physically proved completely unfounded.
Nadal went into the match having been beaten just six times on clay in 196 matches dating back to 2005, and to beat him on the surface has required a level of physical and mental strength allied to consistent accuracy that has generally eluded all-comers.
Djokovic has been a man transformed this year, however, matching the Spaniard physically but having an extra attacking edge to his game as he won the Masters 1000 finals in Indian Wells and Miami.
He picked up where he had left off in the US by storming into a 4-0 lead only for a first sign of nerves to flicker with a routine backhand into the tramlines when serving for the set at 5-3, 30-30.
Nadal sensed his moment and unleashed a barrage of forehands to get the second break back, and his home crowd roared in anticipation of their man finally taking control.
The Djokovic of 2011 is a winning machine, however, with five titles to his name already, and the pressure points no longer affect him as they once did.
Nadal fought off three more break on his way to levelling at 5-5 but Djokovic remained unruffled, racing through his next service game and then powering to 0-40 and three more set points.
He was helped out by a couple of net cords as he broke for the set but the jeers of the Madrid crowd rang hollow as there was no doubt who was in charge.
Nadal needed a lift and he got one in the most spectacular fashion, breaking serve at the start of the second with his best game of the match, which included an outrageous winning lob hit through his legs as he raced back to retrieve a Djokovic volley.
It was a magnificent shot and had the crowd in raptures, but one man remained unmoved.
Within a matter of moments, Djokovic had broken straight back and he was desperately close to moving ahead in game four, only to miss the kind of backhand pass he has been making all year.
The tension ratcheted up with each passing game but it increasingly appeared that Nadal was hanging on, and when the defending champion had to serve to stay in the match Djokovic grabbed victory with both hands.
Three winners took him to triple match point and after missing the first by a hair's breadth with a backhand, he sealed the win by out-rallying Nadal from the baseline.
It was an appropriate way for Djokovic to earn his first win over Nadal on clay in 10 attempts and join the ranks of tennis legends, surpassing Bjorn Borg's 31-match unbeaten run of 1980 to close in on the Swede's great rival, McEnroe.
And
"The number one ranking is not in danger - it's finished," said the 24-year-old. "Let's not lie to ourselves, that's the reality. Nobody likes to lose.
"I have to see what's missing and working with a cool, open mind to decipher things and find the solutions. To try to do a little better next time."
On the number one ranking, Djokovic responded: "If I keep winning I'll get closer but I'm trying not to think about that. I just started the clay-court season.
"It was a perfect start with the two tournaments that I won and I need to stay dedicated and focused on the upcoming events because if I want to reach number one I have to play consistent, because that's what Rafa will do and the rest of the players.
"It has changed, I have a different mindset right now, I'm more stable and I know how to think right."