French Open: Andy Murray's column
By Andy Murray
British number one
Last updated on .From the section Tennis
French Open first round: Andy Murray beat Eric Prodon 6-4 6-1 6-3
The biggest six weeks of my year began with a win and I played a decent match, but it was a tricky start.
With two Grand Slams in such a short space of time and a lot of big matches to play it's important to be switched on from the start, but there was a swirling breeze which made things a bit more testing.
I always felt like I was in control of the match but there was no real pattern to the play and it was quite difficult to feel comfortable, so I did get a bit frustrated, but as soon as I went behind and had to up my game I was able to do that.
I would have liked to have been a little bit more consistent throughout but he was just slicing and mixing it up. He played a lot of drop shots and I really didn't handle them well, so that's something I've got to work on.
He was a tough guy to play but I won in straight sets, and I'd take that every time in the first round of a Slam.
It was a decent start and afterwards I had a chat about the match with Sven Groeneveld, who's part of the Adidas player development team I'm using at the moment while I search for a new coach.
Darren Cahill is also part of that set-up and I've been working with him a bit over the last few months. Darren's a hugely experienced guy and been on the tour for ages, so it's good to have him around.
I've still got Dani Vallverdu from my regular team with me and Sven is helping him out. Sven's got a lot of experience in these sorts of situations so he was out there watching the match and afterwards I was talking to him more about how I was feeling on the court, rather than any technical or tactical changes. That's where I think he can help me.
I've been in Paris for almost a week now and I'm staying right in the centre on the Champs Elysees. I stayed in the same place last year and it's great.
We've got two apartments with two bedrooms each and it's nice and relaxed, you don't hear any of the noise from the street, but obviously when you go out there are nice shops and good restaurants right there for you.
I must admit, though, that I spent as much time following the sport back home as I did enjoying Paris over the weekend.
I managed to see the live on Saturday night and I followed the final day of the Premier League on Sunday via the BBC live scores back at the apartment, although I didn't actually get to see any of the games.
The fight was good towards the end, it just wasn't what I was expecting because obviously there was a lot of bad blood between them so I thought it would be more of a war.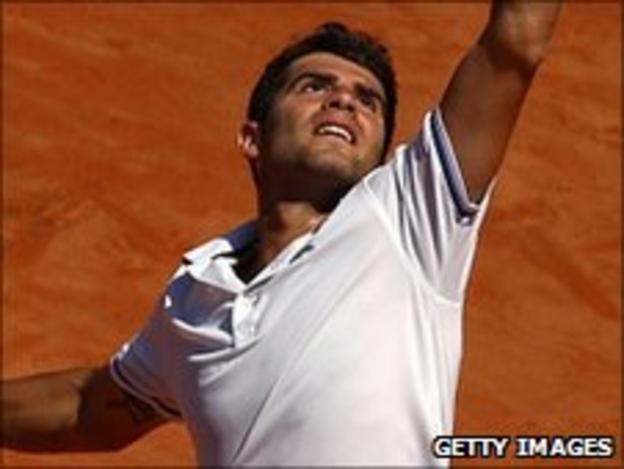 I know there's talk of a rematch but I've got to admit I wouldn't really want to see one any time soon. I'm sure when they get a little bit older they'll fight again but right now I don't really think it's necessary.
The football was unbelievable, just an amazing afternoon; there were so many calculations going on and different teams in the relegation zone.
It's a shame that I think that Ian Holloway's great value and a good coach as well - maybe I should see if he wants to try tennis coaching! Blackpool played some really nice football but that own goal hurt them so much.
As for the Fantasy Football, after a long season I finished in fifth place, 41 points off the top, after picking up a bit in the last few months. Outside the medal positions but still respectable, I think. I'll be back to win it again next year, don't worry about that.
Next up for me in Paris is Simone Bolelli and he's tough - I've played him a couple of times and had a close match with him on clay a couple of years ago in Madrid. He hasn't been so playing well the last year-and-a-half or so but he's a very talented guy and similar to Prodon.
It doesn't really matter who you're playing at this time of year, you've just got to be on your game with the French Open, Queen's and Wimbledon in quick succession. This period comes around so quickly and it's over fast too.
I need to make sure that I give everything for the next six weeks and I'll get a nice five-week break when it's done. These are obviously big tournaments for me with a lot of pressure situations to deal with, but I'm looking forward to it - it's what I play tennis for.
Andy Murray was talking to Piers Newbery and will be contributing regular columns throughout the summer.