Petkovic & Goerges leading German tennis revival
By Piers Newbery
BBC Sport
Last updated on .From the section Tennis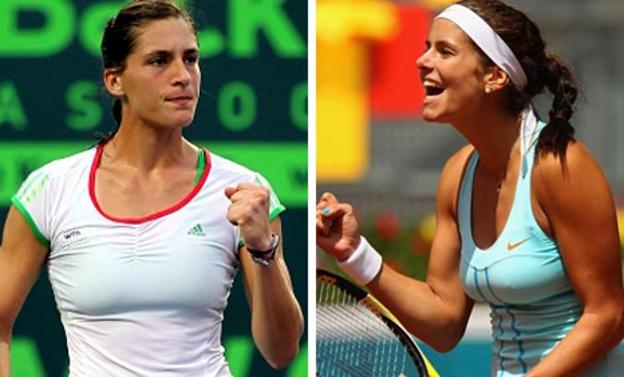 Twelve years on from the summer that saw Steffi Graf and Boris Becker retire within weeks of each other, there are signs that German tennis is flickering back to life.
The arrival in the mid-1980s of two players who would go on to amass an incredible 28 Grand Slam singles titles between them was a case of lightning striking twice in the same place at the same time, and those who followed have understandably struggled in their wake.
But with that double retirement in 1999 an increasingly distant memory, Germany's women are slowly but surely putting their nation back on the tennis map with two players inside the top 20 for the first time since Graf and Anke Huber in 1999, and four in the top 100.
That might not threaten the powerhourse of Russia, with 16 women in the top 100, or the likes of the Czech Republic with nine, but it is enough to see Germany reconnecting with a sport that had slipped out of the limelight in recent years.
Back-to-back victories over world number one Caroline Wozniacki helped Julia Goerges to victory at the Stuttgart Grand Prix last month and then a Madrid semi-final, followed by a career-high ranking of 18, while Andrea Petkovic has established herself in the world's top 15 after impressive progress over the last year.
And although neither woman is going to threaten Graf's extraordinary haul of 22 Grand Slam singles titles, with the women's game in a state of flux at the moment the opportunity is there for all-comers to challenge for major honours.
"We've never reached what Steffi has achieved in her career so we just try to get a little bit closer," 22-year-old Goerges tells BBC Sport. "We'll never reach it, she will be forever the legend and it's tough for us, but I think right now we're doing a pretty good job."
Petkovic, who has risen from 32 in the world at the start of the year, admits: "Sometimes it's tough when you have the great players like Steffi and Boris in the background because whatever you achieve is never good enough, but with my success and Julia playing so well the tennis media in Germany woke up and is really getting on board now.
"It's a good feeling to be part of this and Julia and me still are at the beginning of our road, I don't think that we reached our limit yet, so I think there can be a great time ahead for German tennis."
Goerges, from Bad Oldesloe in northern Germany, turned professional six years ago but unless you are an avid tennis follower, her success might appear to have arrived 'overnight'.
There were signs in the narrow third-round defeat by Maria Sharapova at the Australian Open in January that Goerges might be able to make the next step, and victory over Wozniacki in the Stuttgart final last month was enough to make casual observers raise an eyebrow.
But it was the fact that Goerges was able to repeat the effort over three sets just 11 days later that suggested her powerful game, based around a big serve and brutish forehand, should be considered seriously ahead of the French Open.
However, the player herself is at a loss to explain why the talent she has always had is suddenly revealing itself on the match court.
"It started at the beginning of the year when I played Maria in Australia and I had a good match and thought, 'I can play these players and I can also beat them'," says Goerges.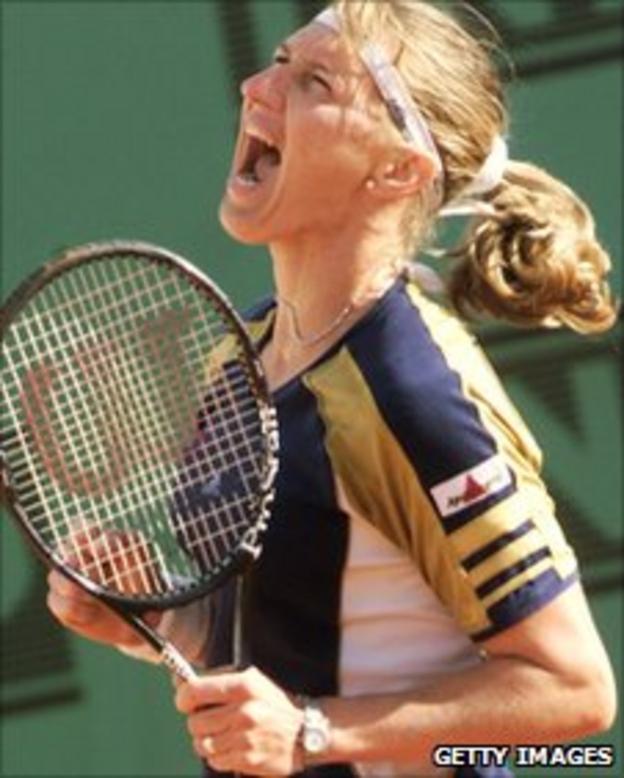 "It was a changing moment in my mind. Sometimes it comes automatically when you go on court, you just start to do the things you always should have done."
Women's tennis needs a boost, with a lack of champions at the top of the game for the international public to engage with following the injuries that have decimated the appearances of the Williams sisters and Kim Clijsters, and the ability of Maria Sharapova to compete for the major prizes, as well as the retirement of Justine Henin.
The fact that there are 15 nations represented in the world's top 20 speaks well of the global nature of tennis but the women's game is crying out for a new generation to replace those known to even non-tennis fans by one name, be it Steffi or Martina, Venus or Serena.
Asked how it feels to be this month's poster girl of tennis, Goerges laughs - "I'm not a superstar at all!" - and admits her immediate ambitions are a lot more modest.
"It's been a great few weeks for me but I have a long way to go," she says. "Top 20 now and I want to have it consistently and not just for one week. I hope I can keep going like this."
If personalities are key to the widespread success of an individual sport like tennis then Petkovic does not require any help from the PR team in that department.
The 23-year-old, who was born in Tuzla in the former Yugoslavia before her family emigrated to Germany when she was five, completed her schooling before turning pro in 2006 and continues to study political science, while immersing herself in literature and music. She also likes dancing.
The "Petko Dance" that accompanies her victories was in danger of becoming more famous than Petkovic herself but her tennis has been catching up this year, with a final in Brisbane followed by victory over Sharapova on her way to a first Grand Slam quarter-final in Australia.
When the 'dance' question is put to her, probably for the 1,000th time this year, Petkovic happily insists that it is the tennis that "gives me much more satisfaction".
"I really like to make people happy," she adds, "and while I was doing that with the dance it was fine, but now I really want people to come to the stadium for my style of play and not my style of dancing - although that's nice also."
In years gone by the fact that Petkovic and Goerges are in their early twenties would have suggested their chances of making the very top had already come and gone, but they are examples of the current trend away from teenage stars - 19-year-old Russian Anastasia Pavlyuchenkova is currently the only teenager in the top 50.
"I started so late after school it was really my choice to play tennis and do all this work," says Petkovic. "It was not a decision that was made for me by my parents or anybody else. Studying and everything I do around tennnis is just a way to get my head off tennis because if you think, eat and sleep tennis 24 hours a day you can get too caught up in it. I somehow manage to stay normal in a way."
Normality might be a harder condition to come by should either of Germany's leading women land a first Grand Slam title at Roland Garros next month, and it's anyone's guess who will follow Francesca Schiavone's surprise victory of 12 months ago, but Goerges is not getting caught up in the hype surrounding her.
"I don't think we should think about winning a Grand Slam when I've never reached the second week before and my best result is the third round," she says. "It's nice having these results right now but it doesn't mean anything for Roland Garros."
Petkovic willingly offers "all the money I have if you could guarantee me this" when the prospect of a Slam title is put to her but a recent hit with Graf in Las Vegas ensured her feet will be staying firmly planted on the red dirt.
The experience also confirmed that there remains a third German woman with top-20 potential.
"That was the first time that I met her and it was absolutely amazing," says Petkovic. "Steffi was still playing so well and the practice session was so intense, she was runninng just like in the old days. It was one of the most intense 40 minutes I've ever had.
"She really showed me how you have to practise if you want to be one of the best in the game and now each practice I try to be as intense as Steffi was.
"The forehand is still unbelievable - I would say she'd still be top 20 if she came back."