The one who got away
By David Ornstein
BBC Sport exclusive
Last updated on .From the section Tennis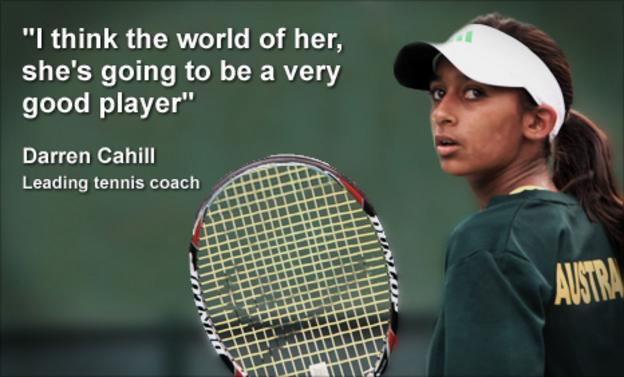 Talented young tennis player Naiktha Bains has reluctantly turned her back on Great Britain after claiming the Lawn Tennis Association showed little interest in aiding her development.
Naiktha wanted to represent Britain and her family urged the LTA to take note, but by the time it reacted she was already being heavily supported in Australia.
The 13-year-old is now an Australian citizen and - despite also holding a British passport - she intends to remain faithful to her country of residence.
"I'm happy where I am," Naiktha, whose situation is a reversal of that which saw Laura Robson move to the UK aged six having been born in Melbourne, told BBC Sport.
"My coaches are really pleased with how I'm going at the moment and we'll stay with Australia if it keeps going this way."
Her father Gurnake added: "The plan was always for Naiktha to train in Australia and stay British for tennis, but we didn't get any support from the LTA.
"We pushed really hard to get them to look at her and would certainly have stayed loyal to Britain. They have since come forward but it's a bit late. At the moment, she's representing Australia and is Australian.
"Britain does still have a special place in our hearts but Australia would have to do something drastically wrong for anything to change. It's disappointing, but it's the LTA's loss."
Naiktha has won four Australian national titles at various age groups over the last 13 months and boasts a 100% record from six singles and doubles matches against British opponents.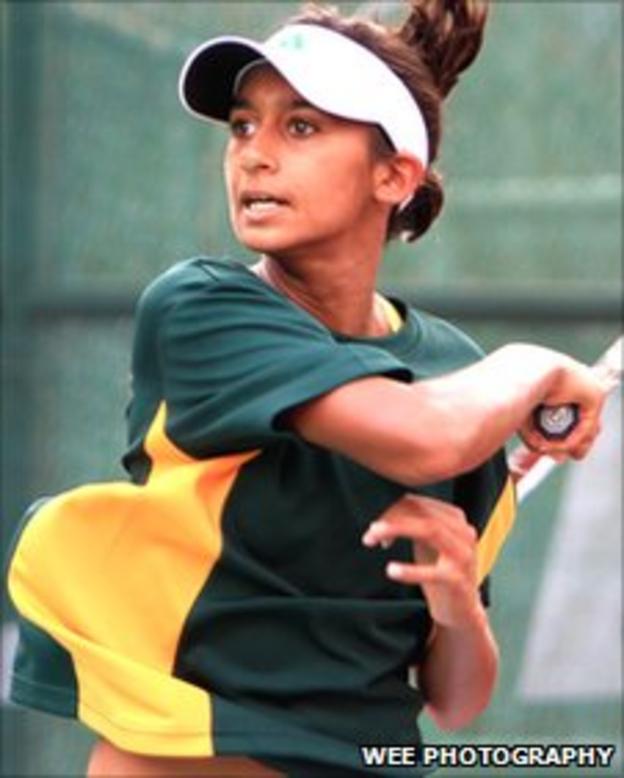 She benefits from full scholarships with a private academy, the National Academy and a top Queensland school, and recently wowed leading coach Darren Cahill during a specially arranged training week in Las Vegas.
"I think the world of her, she's going to be a very good player," said Cahill, former coach of Andre Agassi and currently working with Andy Murray for the Adidas player development programme.
National Academy head coach Scott Draper stated: "I try to play it down a bit because she's only 13, but Naiktha is a very special talent.
"It's a long journey to become a professional tennis player at the highest level but she's certainly ahead of her peers and has the potential to go all the way."
Naiktha first started hitting at the David Lloyd club in Leeds aged six, and was swiftly taken under the wing of then LTA coach Steve Mcloughlin.
The following year she emerged from a field of almost 10,000 to win the Ariel Tennis Ace competition, catching the eye of Boris Becker and Tim Henman in the final at Wimbledon.
That earned her a year's free coaching, but Naiktha only used about six months of it before the family uprooted to Australia for lifestyle and business reasons.
Although news of the move disappointed the Yorkshire LTA, Gurnake promised to stay in contact, provide updates on his daughter's progress and fly her over to play when possible.
He kept to his side of the bargain and she competed for Yorkshire in the County Cup during a trip back to the UK in 2006 - but it was not long before LTA correspondence dried up.
"Maybe they felt it was impractical, maybe they wanted to focus more on home-based players, maybe there was a change of staff or maybe it was just too hard," suggested Gurnake, an Indian-born property investor who moved to England aged two and has applied for Australian citizenship.
Before long, Naiktha was flourishing under the guidance of Gary Stickler, Pat Rafter's former coach and founder of the worldwide LifeTime tennis programme.
"The first - and most important - thing I noticed was her love of tennis," stated Stickler, who has trained Naiktha free of charge at the Nudgee Tennis Centre since she was eight.
"She loves centre stage and is fearless under pressure. She plays each ball on its merit and has a huge power base for her size - she hits harder than most 16 year olds."
By 2008 Naiktha was turning heads in Australia, so Gurnake emailed Mcloughlin offering to fly her over for assessment, thus keeping her on the LTA's radar.
But after being told he would have to foot the bill for any court time and testing, which she was receiving at no cost in Australia, Gurnake decided against the visit and Mcloughlin suggested they instead enter her for the summer 2009 Junior Nationals.
As advised by Chris Peet, the LTA's talent performance manager for the North, Mcloughlin passed Naiktha's details to the governing body - yet heard nothing back for almost five months.
Mcloughlin urged it to review her case "as a matter of urgency" and head of talent Andrew Lewandowski eventually informed Gurnake that Naiktha would not be eligible to take part.
She had contravened LTA Rule 39, which states that entrants must not have competed in another country's national championships in the preceding 12 months.
"They were basically telling us 'we'd love to have you back here but you're going to have to stop playing Australian Nationals for a year'," Gurnake explained.
"She obviously can't do that when we're living here because she needs to compete at the highest level and it's bad for her development if she doesn't.
"We asked if they would make an exception given that we were trying to do something that may ultimately benefit British tennis, but they said 'no'."
An LTA spokeswoman confirmed to BBC Sport that no exceptions can be made.
Naiktha's stock continued to rise in 2010 as she lifted the Australian Under-12 National grass doubles title, the Under-12 clay singles and doubles, and the Under-12 National hard singles.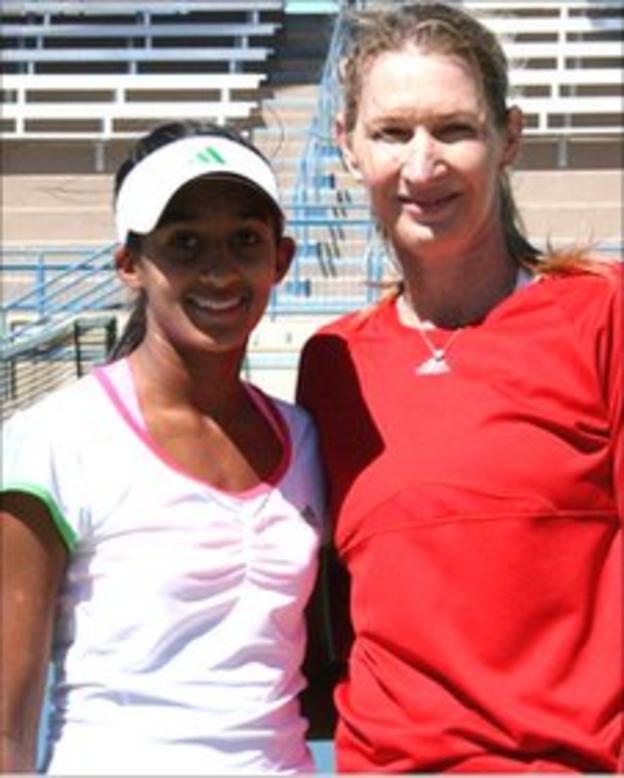 She was awarded a full scholarship to the National Academy which meant free coaching with Draper as well as technical, tactical, physical and psychological support, physiotherapy, overseas tours and plenty more besides.
One of those tours was to Europe with the 1997-born Australia team and Naiktha made the semi-finals of an event in Pescara, Italy, thrashing Britain's Mariella Blackwell - the second seed and more than a year her senior - along the way.
She was the only player from that team selected to return to Europe with the 1996-born squad two months later and reached the quarter-finals of a tournament in Grade 1 ETA in Hasselt, Belgium, going further than any of the eight Britons in attendance.
The LTA finally made their move as Helen Reesby, national girls junior coach for 12-16 year olds, emailed Gurnake to compliment Naiktha on her progress and organise a meeting at the January 2011 Aegon Junior International in Bolton.
"We met with Helen and she explained the support options available," Gurnake commented. "I said 'wait a sec, do you not think you're a little bit too late? Naiktha's already getting all of that and more in Australia - and everything's free'.
"Helen replied, 'oh, is it?'. I said 'no disrespect but where have you been for the last three or four years?'. She didn't have a clue.
"She also said she was going to watch Naiktha play but I didn't see her courtside once. [Global management company] IMG were watching but the British lot were nowhere to be seen."
BBC Sport offered the LTA a chance to reply by it declined to comment.
Naiktha went further than all but two of the 17 Britons in Bolton and it was a similar situation a week later at another Grade 1 Under-14 ETA in Tarbes, France, as she outperformed all five of the British entrants.
More Australian success followed as she won February's Under-14 grass Nationals without dropping a set, and then claimed a stunning triumph at the Under-16 clay Nationals in April.
That proved to be perfect preparation for a seven-day training camp in Vegas, where Naiktha had the rare privilege of working one-on-one with Cahill and renowned fitness trainer Gil Reyes.
The week included an on-court session with 22-time Grand Slam winner Steffi Graf, who was hugely impressed.
Cahill posted a video clip to the social networking site Twitter with a message saying: "13-year-old Aussie, yes 13, going toe-to-toe with Steffi today.. keep an eye on Naiktha Bains."
Brad Gilbert, another leading coach, saw the footage and wrote: "Wow what did Stef say?" Cahill replied: "Impressed.. and it takes a lot to get her attention, as you know."
By this point the Australian authorities had already fast-tracked Naiktha's passport, enabling her to captain its side at the recent Asia/Oceania qualifying tournament for August's ITF World Junior Tennis (WJT) finals in the Czech Republic.
As a result, the only way she can now represent Britain in an ITF team competition - such as Fed Cup or the Olympics - is if she avoids playing for Australia in the 36 months preceding that event.
"If the LTA had fulfilled what it said at the beginning and continued to keep an eye on her, without a shadow of a doubt she would have been playing WJTs for Britain," Gurnake insisted.
The 36-month rule applies solely for ITF team competitions, so Naiktha will always be free to pick which flag she plays under in tour events - but as things stand, Australia is her choice.
Mcloughlin admitted the "utopian dream" would be for Naiktha to evolve into a top player and decide to play with the letters 'GBR' next to her name, yet he conceded "it might be too late".
After winning seven matches to help Australia clinch victory at the WJT tournament, she tweeted "proud to be Australian" alongside a photo of her leading the team out at the opening ceremony.
"Naiktha's case has shown us that some talents can fall off the radar," Mcloughlin added. "The LTA should be leaving no stone unturned to engage all foreign-based players and keep in regular contact.
"We need to adopt an umbrella approach - accept that many players will face different scenarios and make sure we are still covering them in one form or another."
Stickler pointed out that Naiktha is reaching a critical point - "The three years between now and 16 years old are huge because girls develop a lot earlier than boys" - but said she has the potential to fulfil her aim of becoming a future world number one and multiple Grand Slam champion.
"It wouldn't surprise me if she became a top-10 player," he suggested. "She really is that special."
The LTA issued the following statement: "The LTA is committed to supporting our most talented players irrespective of where they are based, and all British players are eligible to receive funding and support.
"The funding structure is the same for players training in Britain and abroad. Players based overseas are also invited to national player camps and can be selected for official trips and touring teams if they have the relevant results to support their selection."