French Open: Elena Baltacha's column
By Elena Baltacha
British number one
Last updated on .From the section Tennis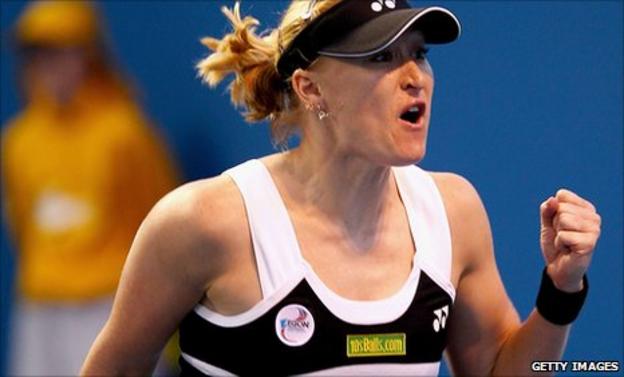 I can't believe that I am back at Roland Garros again.
Paris is such an amazing city, especially at this time of year, and you just never get tired of waking up to a view of the Eiffel Tower out of your bedroom window.
We are staying in an apartment this year, which is lovely because after six weeks away from home you actually get excited about buying food in a supermarket and cooking dinner for yourself.
The supermarket here is always a great place to people spot because all the players stay in the same apartments and use the same shop, so when you pop out to buy a pint of milk you see half the French Open draw buying their groceries.
I won't mention any names but my coach Nino and I were in there once and spotted a former world number one on her hands and knees in the make-up aisle looking for lip gloss. I guess we all need our essentials!
I play a talented young American girl called Sloane Stephens in the first round here.
She came through qualifying so she will have lots of confidence from that and you can't take anyone lightly in a slam because everyone has so much to play for.
I hit with Sloane in Indian Wells a couple of months ago and it was clear then that she has loads of promise and she can strike the ball very big.
It's a matter of whether she can do that consistently against me, which is usually something that young players struggle with.
I've spent enough time at this level now not to worry any more about being the one who is expected to win.
It took some getting used to because in some ways it is easier to be the underdog, which is the position that you are in when you come through qualifying. It's just a case of looking at things a different way.
Now I understand that I am main draw and she is in qualifying because I am ranked higher than her, which means on paper I am the better player.
Experience teaches you to accept that fact and use it to give you confidence, rather than making it into something negative where you focus on what you have to lose instead of what you can gain.
In years gone by I've probably been guilty of not believing in myself enough on clay but I feel differently now because I have really invested time in my clay-court game.
I spent two weeks at La Manga Club in Spain before I started playing tournaments on it so that I would be properly prepared and that helped me reach my first clay-court semi-final a couple of weeks ago at Cagnes Sur Mer.
I feel so much more comfortable on clay than I did. For the first time in all the years of coming to Roland Garros, I feel in very good form.
I'll be expecting a tough match from Sloane but I'll also be ready for whatever she brings to the court.
Elena Baltacha will be contributing regular columns to the BBC Sport website throughout the summer.