State of the game
By David Ornstein
BBC Sport
Last updated on .From the section Tennis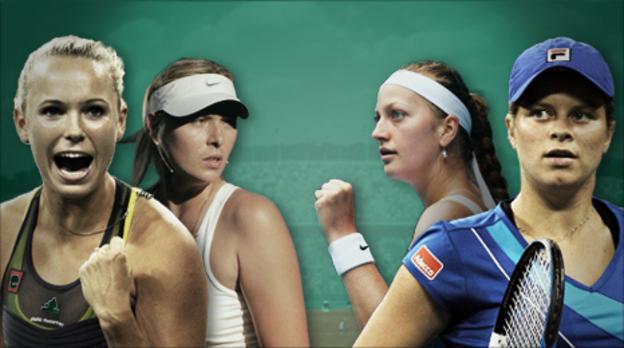 No Serena Williams, no Venus Williams, no Justine Henin and question marks over Kim Clijsters - women's tennis has been thrown wide open going into the 2011 French Open.
That quartet have won 31 of the last 46 Grand Slam trophies and spent 282 of the past 482 weeks as world number one.
But Serena and Venus are injured, Henin has retired and Clijsters is due to play for the first time since late March following shoulder, wrist and ankle problems.
All of which clears a path for some of the sport's less-heralded names to capture the wider public's imagination.
Caroline Wozniacki currently holds the top ranking but is still to win a major title, Petra Kvitova has turned heads this season and Francesca Schiavone will hope to repeat her shock triumph of 2010.
Then come the likes of Victoria Azarenka, Vera Zvonareva and Julia Goerges, while Maria Sharapova and last year's runner-up Samantha Stosur have hit form just at the right time.
So, who will it be and how is the game shaping up ahead of Roland Garros? BBC Sport caught up with British number two Anne Keothavong and former British number one Annabel Croft.
WHAT IS YOUR VIEW ON THE CURRENT STATE OF WOMEN'S TENNIS?
Anne Keothavong: "From a player's point of view, this is a good time. At the start of every tournament, no-one knows who's going to reach the final and everyone feels they've got a shot at winning matches against the top players. I feel such unpredictability makes for exciting tennis.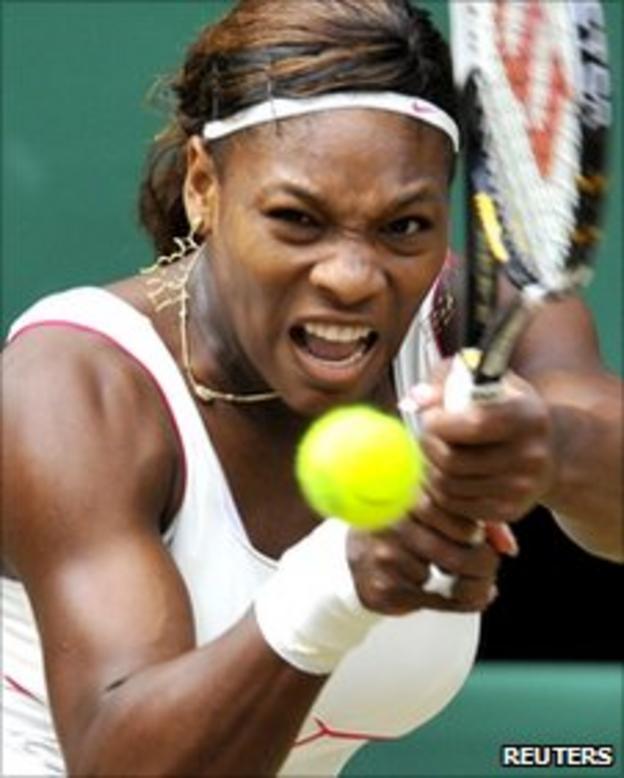 "It's a bit of a no-win situation. When the Williams sisters were winning everything, people were saying the women's game was boring and that all the rest of us were rubbish - but when anyone can win anything, people complain that there isn't a dominant force."
Annabel Croft: "The general view is that women's tennis is really struggling. There isn't one player - or even several players - really dominating the tour, which means we aren't seeing fantastic rivalries developing. There aren't any real heavyweights who you look forward to seeing go head-to-head late on in a Grand Slam.
"For many years we had the Williams sisters, Henin, Clijsters, Lindsay Davenport and Martina Hingis - all marquee names whose clashes we'd look forward to. That said, we've now got a lot of players in contention for every tournament and that suggests there's much more strength in depth today."
IS IT SIGNIFICANT THERE IS ONLY ONE TEENAGER IN THE TOP 50?
AK: "I think it reflects the overall health of all the other girls. It's very rare now to see a 17-year-old coming in and winning a Grand Slam - those days are over. Physically, girls are in better shape now so they can play for longer, and with experience and maturity they're simply becoming better players.
"There are young girls coming through but it's not as easy to immediately break through to the top of the game as it perhaps once was. It takes a lot of hard work to crack the top 50 - just look at someone like Clijsters; she's a better player now than she was before even after marriage and having a child."
AC: "The women's game is so athletic now; you have to be incredibly strong, physically and mentally. You're not going to get these 15/16-year-olds emerging as child stars like they traditionally did in the 80s and 90s.
"It's so demanding that players are taking longer to develop, which is why you get someone like a Goerges breaking through at 22. It takes a long time to learn your craft, get as fit as you have to be and as mentally strong as you have to be."
THERE ARE NINE DIFFERENT NATIONALITIES IN THE TOP 10 BUT NO AMERICANS - IS THE LACK OF TOP-CLASS, FIT US PLAYERS AN ISSUE?
AK: "It might be an issue for the States but it's not for the rest of us. With Serena fit and healthy I think you'll see her back up there again but for a nation with such a huge population, so much funding and a home Grand Slam, it is a problem.
"But it's their problem and, like every other country, they have to figure out ways of making tennis more appealing for younger girls. They've got some good juniors but it will be a few years before those girls really crack it. If we're talking top-10, they really could be waiting a while."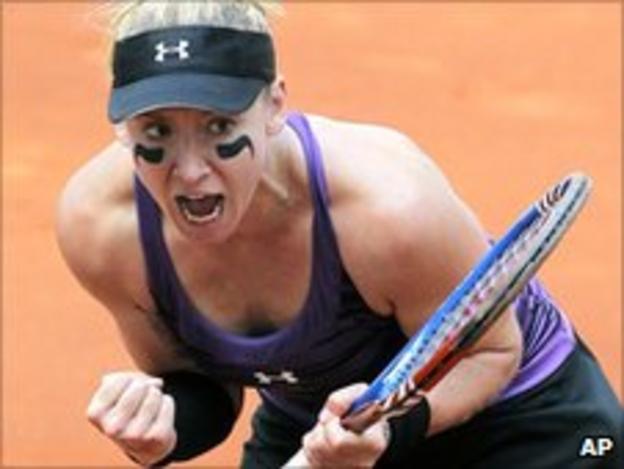 AC: "Serena and Venus have always been so far ahead of their compatriots, and now they're injured it's beginning to show. The next one down is Bethanie Mattek-Sands (36th), a hard worker but unable to thump people off the court, and then Christina McHale (81st) and Varvara Lepchenko (85th), neither of whom we know much about.
"It's not really happening for American tennis and aside from the Williams sisters, none of their players are even close to being outstanding. I saw lots of their teenagers playing at the 2010 US Open - they're quite petite and you wouldn't put them in the same league as Serena and Venus athletically."
CROWDS HAVE NOT BEEN GREAT IN THE EARLY STAGES OF TOUR EVENTS - COULD THE WTA DO ANY MORE TO BOOST POPULARITY?
AK: "The WTA is doing all it can to try and promote the current and next generation. It's a tough nut to crack and, of course, having players with Grand Slam titles would help. But even if that was the case, in this day and age you would still need to think of new ways to raise the profile of your sport.
"The Strong is Beautiful campaign is a good idea - in this era of celebrity and social media it's not just about the sport but about selling the personality too. To a certain extent sex does sell and the girls are increasingly aware of that. There's no reason why you can't be feminine, strong, athletic and successful."
AC: "Some attendances have been terrible and it can't help the players; tennis is theatre and they like to go out and perform in an atmosphere. It's an indication of where we're at right now, there aren't enough stars in the game who people will pay money to watch and that's a worry for the future.
"In terms of glamour, I don't think women's tennis could be in a better state, but this proves it's a gladiatorial sport and the fans want rivalries between two great minds. A lot of the girls get on really well off the court, which is nice to hear but you want players who hate each other. Maybe there's a bit of that spice lacking."
IS THE STYLE OF PLAY A FACTOR - IS IT TOO UNIFORM?
AK: "Baseline play is dominating in the men's and women's game because everybody's hitting the ball so hard. Everyone is so much bigger and stronger now and it's tough to be as creative as it was in years gone by because players just smack the ball so hard."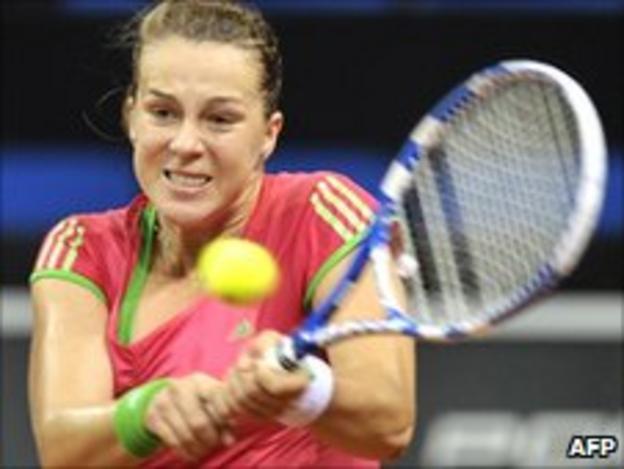 AC: "These days, game styles are very much the same and I often find myself commentating on the same patterns of play. It's a welcome relief when someone like Schiavone gets on the court and it was a shame when Henin retired, because the modern player and most of those coming through are pretty similar.
"Kvitova is a bit different - she's left-handed, explodes on to the ball, she is a shot maker and is exciting to watch. It's not that structured, manufactured hitting from the back of the court."
ARE THERE ANY EMERGING PLAYERS WE SHOULD KEEP AN EYE ON?
AK: "I played Kvitova in Prague recently and she's got a huge game. She's one of the players capable of winning a Slam in the next few years and dominating at the top. The likes of her and Azarenka are a sign of the future. You're going see a big display of power in the coming years.
"But you can't write off the older players like Li Na, Clijsters, Stosur and Schiavone. They all have big games. There are others who can do well but as the game becomes more power-based, injuries are picked up more often and it's hard to be consistent. Wozniacki is being rewarded for her fitness and consistency."
AC: "I'm a huge fan of Wozniacki and although she doesn't possess big weapons, she grinds opponents down with her strength of character. However, I think it's going to be tough for her to win Grand Slams. The way her forehand breaks down, allowing opponents to hit through her, is dangerous.
"Azarenka seems to be getting it together and despite lacking a Plan B, she's very tough mentally. Kvitova is a threat to any opponent while Andrea Petkovic is athletic, determined and overcomes her limitations with her strength of mind. The women's game is definitely there to be had."
WHO DO YOU THINK WILL WIN THE FRENCH OPEN?
AK: "The women's side is very open. Last year it was a huge surprise with Schiavone winning and there's no reason why she can't do it again. There are loads of different girls up there - Kvitova, Azarenka and Wozniacki should get through the first couple of rounds no problem.
"I don't think there should be any huge expectations on what Clijsters will do this year having been out for quite a number of weeks. There are quite a few girls out there who could beat anyone on their day."
AC: "So much depends on the draw, but I would say Sharapova has a really good chance. She's going to be extremely motivated and comes in with fantastic form having won in Rome. I was one of many who wrote her off a couple of years ago, but she's back and will fancy adding this title to her trophy cabinet.
"Kvitova, Azarenka and Wozniacki are real contenders. Stosur is finding form at the perfect time and having been a semi-finalist in 2009 and the runner-up in 2010, she can be in the mix again. Clijsters... who knows? You've got to win seven matches over two weeks and that's a big ask - especially on clay - if you haven't played competitively since March."