John McEnroe hails Novak Djokovic for winning run
Last updated on .From the section Tennis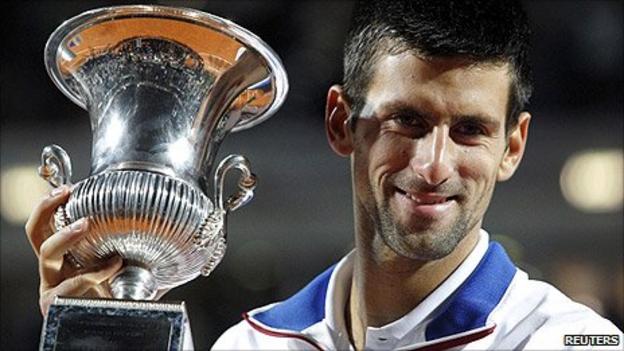 Tennis legend John McEnroe says Novak Djokovic's superb 37-match unbeaten run in 2011 is more impressive than his own record-breaking streak in 1984.
Should Djokovic reach the final of the upcoming French Open, he will beat McEnroe's record start to a year of 39 unbeaten matches, although he also received three tournament byes, set 27 years ago.
"There is more competition, more athleticism, deeper fields and more depth in the sport," said McEnroe.
"So his record is even more impressive than mine."
McEnroe added: "Also in '84 the Aussie Open was played at the end of the year so I hadn't played a major when I put that run together. My first major was the French where the streak was broken."
Djokovic, who will be 24 on Sunday, has had a stunning start to this year, winning the Australian Open and four Masters Series events - including last weekend's victory over clay expert and world number one Rafael Nadal in Rome.
The week before, Djokovic won the Madrid Open - ending Nadal's excellent run on clay in the final.
The world number two now has the chance to eclipse McEnroe's record start to a season at the French Open, which was where Ivan Lendl ended the American's streak.
Djokovic would also close in on the best-ever winning run of 46 straight victories set by Argentine Guillermo Vilas in 1977.
"For me personally it brings back memories of '84," said McEnroe. "I'm quite excited at the timing of this because he could break my record at the French Open.
"I've followed his progress and to put it mildly it's been quite amazing to see how much confidence he is playing with.
"It's impressive given he came in number three and to dominate [Roger] Federer and Nadal the way he has, to see what he has done, it's a little surprising."
However, McEnroe warned Djokovic - who this week became the first player to qualify for the 2011 ATP World Tour Finals - that Nadal will be a different prospect over a five-set match, should the pair meet at the French Open.
"Rafa is certainly tougher to beat in a best-of-five match," argued McEnroe.
"Going back to '84, I beat Lendl twice on clay going into the French then got up two sets and lost in five. Certainly Novak has to be careful because Nadal fights right to the end."