French Open: Andy Murray should be fit despite injury
Last updated on .From the section Tennis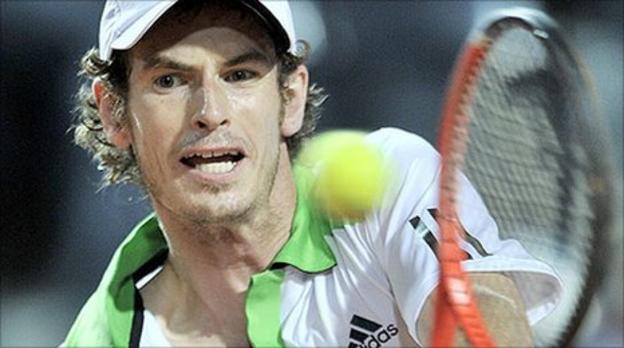 Britain's Andy Murray is expected to be fit for the French Open even though a training injury forced his withdrawal from Thursday's Paris exhibition match.
Murray, world number four and a 2009 quarter-finalist at Roland Garros, opted against any risks with the clay-court Grand Slam starting on Sunday.
The draw takes place on Friday with in-form Novak Djokovic aiming to derail Rafael Nadal's bid for a sixth title.
Top women's seed Caroline Wozniacki is keen to break her Grand Slam duck.
Murray had been set to play Michael Llodra in the Masters Guinot Mary Cohr event at Paris Country Club but pulled out at the last minute after feeling pain during practice on Thursday morning.
But initial fears for the fitness of the 24-year-old Scot, who missed the French Open and Wimbledon in 2007 because of a wrist problem, were swiftly quashed when organisers said: "Andy has withdrawn as a precaution after sustaining a minor injury whilst training."
Murray, who still went to the exhibition tournament site to make a brief appearance on court to apologise, returned to his hotel for treatment ahead of the French Open draw, where he will hope to avoid a testing opener.
Last year he was drawn against highly-rated Frenchman Richard Gasquet, currently ranked 14, and was pushed all the way before surviving a five-set thriller.
Despite his minor injury scare 72 hours before the action gets under way at Roland Garros, Murray should be in good spirits having narrowly lost to world number one Nadal and Djokovic in the semi-finals at the recent Masters events in Monte Carlo and Rome.
Top seed Nadal will be determined to equal Swedish legend Bjorn Borg's record of six French Open championships and can reflect on a record of 38 wins and one loss over his career at the year's second Grand Slam tournament.
His only loss came to two-time French Open runner-up Robin Soderling of Sweden in the fourth round in 2009.
Although close rival Djokovic describes the Spaniard as the "King of Clay" and "the best player ever to play on this surface", it is the Serb, seeded two, who could be considered favourite.
Djokovic is in red-hot form, with a season's seventh title in Rome last week securing his fourth victory over Nadal in successive finals this year.
And if he reaches the French Open final, he will beat John McEnroe's record start to a year of 42 unbeaten matches, which was set 27 years ago.
Unless Nadal wins at Roland Garros, Djokovic, whose best showing at the French Open is semi-final spots in 2007 and 2008, will become the new world number one - and the player who turns 24 on the first day of the championships is in buoyant mood.
"I think Rafa is still right up there before anybody," Djokovic said.
"Probably because I'm in the shape of my lifetime and playing the best tennis of my career I am one of the favourites, but Rafa has only lost one match there in his career."
Meanwhile, 16-time Grand Slam winner Roger Federer has fallen below Nadal and Djokovic in the rankings and is looking to bounce back from losing to Gasquet in the third round in Rome last week.
It was the first time he had failed to reach the quarter-finals of a tournament since falling at the same stage of the same event last year, but the 29-year-old Swiss said: "I'm as optimistic as ever. Novak has won a lot of tournaments, like Rafa, but I'm getting closer.
"Not much has changed for me from when I was number one. With Murray or Novak, or even Rafa, occasionally in my draw it was always hard.
"Everyone is so consistent. It's not like you can say Murray is bad on clay or Rafael is bad on grass. Everyone can play on every surface."
World number 11 Andy Roddick withdrew from the tournament with injury on Thursday, as did Juan Carlos Ferrero.
The women's tournament will be intriguing. Venus and Serena Williams are absent, Kim Clijsters is playing her first French Open for five years, Maria Sharapova is eyeing the only Grand Slam title missing from her win list and top-ranked Wozniacki is pursuing her first major championship.
The 20-year-old Dane has consolidated her top ranking this year with tournament wins at Dubai, Indian Wells and Charleston, but has suffered recent defeats by rank outsider Julia Goerges in Stuttgart and Madrid, and lost to a resurgent Sharapova in the Italian Open semi-final.
Wozniacki, whose best result at Roland Garros is last year's quarter-finals, said: "You need to win seven matches whether this or that player is there or not.
"My main targets this year are the Grand Slams. I'd like to win one but it's not a catastrophe if I don't."