French Open quotes - day one
Last updated on .From the section Tennis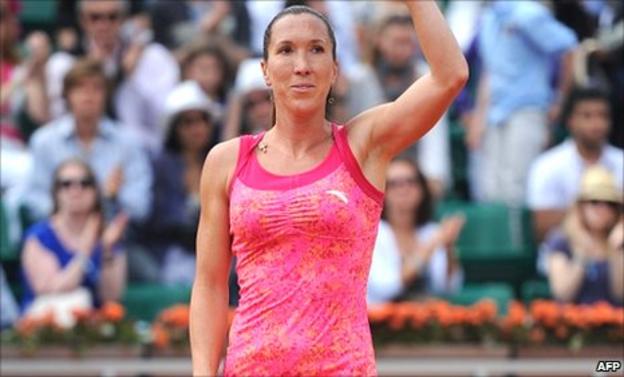 "I really love playing at Roland Garros. Hopefully I can do well here again. Obviously my dream is to one day win it. I will always try my best." Three-time French Open semi-finalist Jelena Jankovic is looking to go a step or two further this time around.
"I don't think I have to necessarily prove anything. I think having made semis and a final, that kind of proves that I have been able to back it up and it wasn't a fluke the first time." Sam Stosur denies she's under pressure to win the title after reaching the last four in 2009 and the final in 2010.
"I don't know if relieved is the right word; I'm happy, I'm satisfied. I expected, like every year, the first match not to be too easy. He played really well. I was a bit slow. I took some time before I got into the match. But I felt better at the end and I'm glad I won in four sets." Stanislas Wawrinka dissects his come-from-behind victory over Augustin Gensse.
"I was relatively relaxed and I started the match really well. I dominated him throughout. It was not obvious because of the gusts of wind. It was not my best type of tennis but, given the conditions, it was not bad." Jo-Wilfried Tsonga promises his superiority over Jan Hajek would have been more obvious were it not for... the weather.
"The truth is that when I saw the draw, it wasn't very good for me, but I knew that with a little luck I'd win." Not even Ruben Ramirez Hidalgo fancied his chances of upsetting 19th seed Marin Cilic - but he did just that.
"I was close to not playing. My stomach had been hurting, but I started to feel better so I decided to come and practise here. The kidney infection is now fine. I am taking medicine for it and it's getting better. Physically and tennis-wise, it's pretty good and I'm confident." Kei Nishikori on his race to be fit for the French Open.
"He's teaching me a lot about clay, to use more lobs and slices. This year I have played well on the red clay on Europe. I have faced more clay-court players and am getting more confidence." Nishikori hails the influence of new coach Brad Gilbert.
"I couldn't believe it when it happened. It was a very sad situation, but we are a strong nation and getting to be better. The people will fight even though they are still having a tough time." Nishikori on March's earthquake in Japan.