French Open quotes - day two
Last updated on .From the section Tennis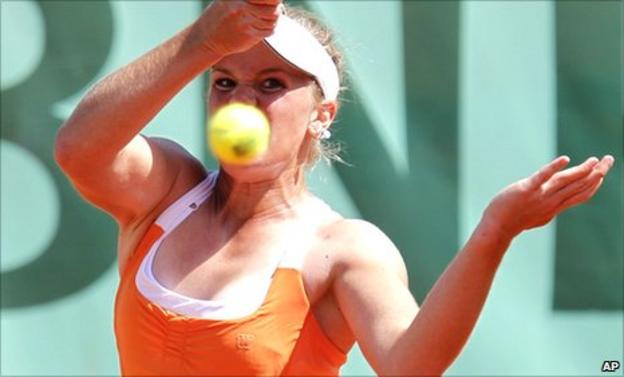 "I pretty much got a clay-court lesson. I haven't played anyone that hits the ball that heavy. She's serving well, she's moving well, she pretty much doesn't have a weakness on the clay. I can see how she won the French Open last year. She's so confident here. You could see the shots she was going for and making them. I thought she played really, really well. There really wasn't much I could do." Melanie Oudin explains her thrashing by Francesca Schiavone.
"I'm still shaking a little bit. There was a lot of adrenaline. I felt really happy to be there. That court is perfect. It goes all around you. It's like when you go home and your mum does everything for you and you feel comfortable. I felt like this, but with a lot of adrenaline." Schiavone on her love affair with Court Philippe Chatrier.
"Pressure is always there. Over the years you learn how to deal with it. I know there is a lot of expectations because of the streak I have but I'm really happy with the way I'm handling things right now on and off the court." Who would've thought Novak Djokovic had the weight of a 40-match winning sequence on his shoulders?
"It's my favourite Grand Slam, even though I haven't won it yet. I've been playing really well on clay. I've won three [clay court] tournaments [Belgrade, Madrid and Rome] in the last few weeks, so I'm trying to build on that confidence." Djokovic sends an ominous warning to his rivals.
"It's just to say thank you to mother nature for being so nice to me and allowing me to produce such good shots. In those moments you have the feeling that you live in perfect harmony with the nature." Stephane Robert explains the kisses he blew to the sky during his shock victory over sixth seed Tomas Berdych.
"That's tennis. Maybe it's too early to analyse how was that or what was happening on the court. That's what can happen in the long matches. Sadly it happened to me today. I cannot imagine how somebody who can play tennis like that can be out of the top 100." A red-faced Berdych attempts to come to terms with his defeat by world number 140, Robert.
"I'm hearing a lot of conversations about the balls. It's just that they're not the same from what we've just played with for the last month. And that for us is the most frustrating part, that the tournaments all changed to the Roland Garros ball after last year, but Roland Garros has changed their balls again. Now we're stuck with a different deal for all the different ATP Tour events." Roger Federer hits out at the decision by Roland Garros organisers to introduce new balls - Dunlop replacing Babolat - at this year's tournament.