French Open quotes - day three
Last updated on .From the section Tennis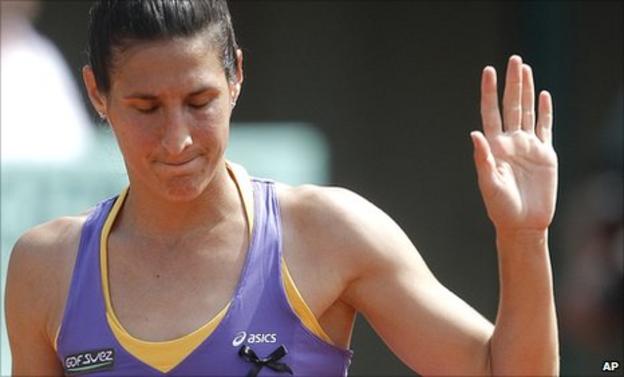 "I am very emotional, I was here for Stephane. It was really hard to come on the court, there was a lot of emotion and a lot of pain. That pain will always be there. I tried to make a tribute to Stephane. It was mission impossible but I gave my all. He wanted me to continue to go on with my life, even in these very painful circumstances." A tearful Virginie Razzano, beaten 6-3 6-1 by Jarmila Gajdosova, reflects on the recent death of her fiance and coach Stephane Vidal from a brain tumor.
"It's a chain that I offered to Steph for Valentine's Day in Antwerp a few years back. It was like me on him, he wore it until his last breath. I'm convinced I have to wear it, now it's him on me. I can't play with it because it's too heavy but I find comfort in wearing it." Razzano explains the necklace she was wearing in her post-match press conference.
"I just told her that I'm sorry for her loss, and what she did was pretty much incredible." Gojdosova offers comfort to Razzano after their match.
"I am human after all and I can only try to cope as best I can. I have good people around me and they have helped. Time will heal. She's probably in a much worse position than I was, but still I felt really bad." Godjdosova, who has reverted to her maiden name since separating from husband Sam Groth three weeks ago, reveals how her own personal problems are affecting her.
"I had stomach problems at the start of the year. But I felt healthy before Indian Wells, then hurt my stomach again at the Fed Cup. It's been stop and go, it is very frustrating. It's inflammation of the wrist but I didn't suffer it playing, I woke up with the problem. The bone has slipped and has caused friction. I'm very upset." Ana Ivanovic discusses her various ailments after a shock 7-6 (7- 3) 0-6 6-2 defeat by Johanna Larsson.
"I just tried to forget about it quickly and move on and keep thinking positive. I was really thinking about how nice it is to play in this big court and with all this crowd, and I was trying to get some help from them. It worked in the end." Larsson reveals how she bounced back from being bagelled in the second set.
"I wear Tiffany earrings at Grand Slams. Unfortunately I have to give them back after the tournament." Such was the ease of her 56-minute victory over Mirjana Lucic, Maria Sharapova finds herself fielding fashion questions during her press conference.
"I'm still happy I could win today. It was a tough match. I also had a little bit of cramp at the end of the match, but hopefully she couldn't see that." Li Na hopes that she kept her weaknesses hidden in overcoming Barbora Zahlavova Strycova.
"The way I was dealing with them, I would have kept hitting them too." Andy Murray admits that opponent Eric Prodon picked the right tactic is peppering the front of the court with drop shots.
"It's a miracle that I finished the match and played three sets with nothing in my stomach since last night." Prodon reveals that he was running on empty after not eating in the build-up to the match because of suspected gastroenteritis.
"I haven't seen tennis like that ever. That's why he's number one in the world and one of the greatest players ever." John Isner pays homage to Rafael Nadal after losing from two sets to one up against the Spaniard.
"I don't know what happened. He started to play better and better than me at the end of the third set. I didn't play my best tennis and finally I lost. That's all." Nicolas Almagro is at a loss to explain his shock defeat by Lucas Kubot.