French Open: Elena Baltacha takes big steps forward
By Elena Baltacha
British number one
Last updated on .From the section Tennis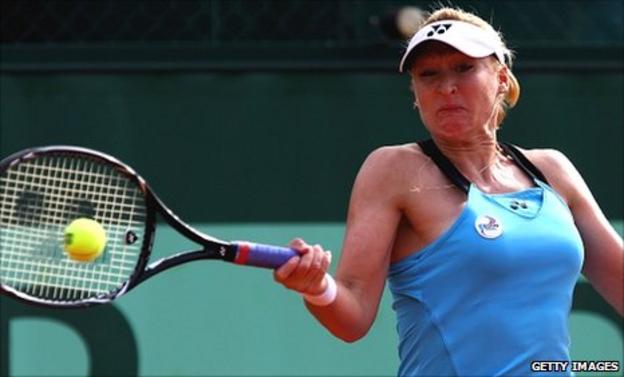 It is a bit strange to .
I would be the first one to admit that I have had a few hang-ups about playing on clay in the past, and it is nice to have got rid of all those negative thoughts about the surface and this tournament.
I have proved to myself that I can play on this stuff and so, whatever happens against Vania King in the second round on Thursday, I have already made a breakthrough in the last few weeks.
It is also nice that there are two British women in the second round and I am really happy for because she is very talented with a lovely personality. She works hard and I have watched her improve a lot since the first time I saw her play.
As I know from my own experience, qualifying for a Grand Slam and breaking into the top 100, both of which she has done here in Paris, are big milestones and can give you lots of confidence to build on. I think everyone who knows her and who cares about British tennis is very proud of Heather.
But that does not mean I am going to let her take my British number one spot!
Rivalry is great for the British game but for me personally it is also something I really relish because, as you can imagine, I am an incredibly competitive person. I am more than happy to battle Heather for the right to be called Britain's number one.
Because the standard of British women's tennis has improved so much in the last few years - during which both and I have been ranked in the world's top 50 - that position probably means more than it used to.
I know I worked my backside off to get to be the best female tennis player in the country, it is something I am very proud of and I am not giving it up without a fight just yet!
I am sure Heather knows that - she's a competitor and I expect her to be doing everything she can to keep climbing the rankings. I will be doing the same.
The best way to keep ahead of Heather in the rankings is to take care of my own business, and that means playing the kind of tennis I have done so far.
I will have to play smart, patient tennis and keep my head, because, as I am learning, that is what it is all about on clay.
My next opponent, King, had a big win against seeded player Dominika Cibulkova in the first round and she will be feeling good about her game.
I never take opponents for granted and I need to be ready to deliver the best I can against her.
I have taken some big steps forward on clay in the last few weeks. Now, against King, I have got to make that count.
Elena Baltacha will be contributing regular columns to the BBC Sport website throughout the summer.