French Open: Juan Martin del Potro ready for Novak Djokovic
Last updated on .From the section Tennis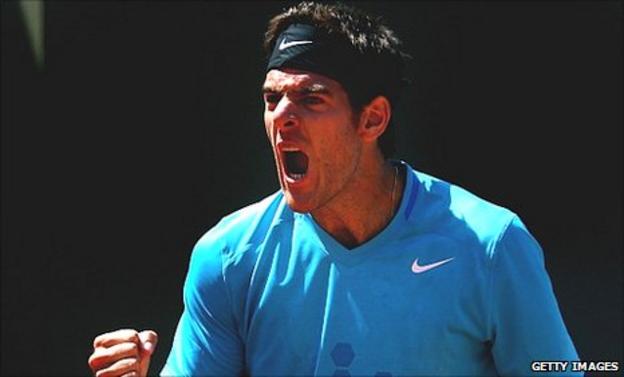 The foundations for Juan Martin del Potro's sole Grand Slam title were built from the red clay of Roland Garros.
The Argentine is back in Paris for the first time since that loss this week, hoping to make another statement of intent.
The draw has handed him the ideal opportunity, matching him with Novak Djokovic in the third round on Friday, whose blistering form has taken him on a 41-match winning run and to the brink of becoming world number one ahead of Rafael Nadal.
"It's a special match. He's trying to make a record here and to be number one and I want to be ready for the fight," said Del Potro earlier this week, in Paris.
"I don't know if I can win or not, but it will be a beautiful match for me."
But if the circumstance in which he finds himself seems similar to 24 months ago, it is not because Del Potro has stood still.
Rather, he has endured bitterly fluctuating fortunes.
After reducing Federer to language more befitting a native New Yorker at Flushing Meadows in September 2009, he beat the Swiss again en route to the final of the World Tour Finals in December.
Then, just as he seemed poised to launch an assault on the summit of the game, the lingering tendonitis in Del Potro's right wrist, that had forced him out of the Shanghai Masters several months previously, finally caught up with him.
Del Potro struggled to the fourth round of the 2010 Australian Open but in the aftermath, initial estimates of a four-week lay-off stretched to months before he finally gave in to surgery in May that year.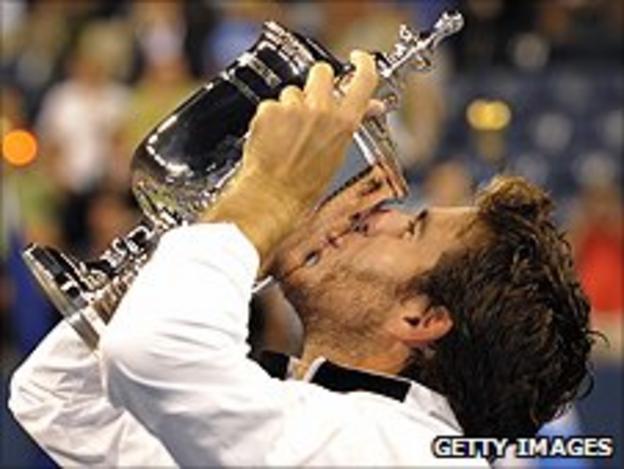 He played just twice more in 2010, losing on both occasions, as his ranking slumped below 250 due to his absence.
This year, then, has been the start of the long climb back.
Two titles - at Delray Beach and Estoril Open - and a pair of straight-set wins against world number five, Robin Soderling, have caught the eye and imagination.
Given the way in which Djokovic has steamrolled through the rest of the men's game so far this season, simply threatening the Serb's progress would impress.
For Del Potro's former coach Marcelo Gomez, however, the match will be a chance to wonder what might have been.
Gomez moulded Del Potro in his early years, first coaching him as a six-year-old who was more interested in football, so the respect between coach and player is lasting and mutual.
"Novak [Djokovic] improved a lot this year, but before the injury Juan Martin was on the rise," Gomez told BBC Sport.
"I have no doubt if he continued playing, and had not been injured, he could be at Novak's level.
"Juan was going through a remarkable development, in both his confidence and in play, his mentality was very strong.
"Being out of action for one year is a very difficult situation for any player, but he could return and be at a high level very soon.
"I have no doubts that this year we'll see him back among the best."
Caught in the glare of an eager American media in the days after his US Open win in 2009, Del Potro seemed quiet and understated.
His return to Tandil, the home town he shares with Gomez, was anything but.
Forty thousand people, more than a third of the city's population, turned out to see Del Potro pass through a tickertape parade on board a fire engine.
Former top-10 player Guillermo Canas is also sure that Del Potro has the mentality to be at the centre of such celebrations again.
The 33-year-old Canas, who retired from the game to move into coaching last year, played alongside Del Potro in Davis Cup and doubles tennis as well as suffering three unanswered defeats at the hands of his compatriot.
"When Juan Martin is at his best physically, his overall level is, in my opinion, one of the best in the world," he told BBC Sport.
"However, due to his recent injuries, he is just beginning to get back to where he left off. With the way he plays, he really needs to be in top shape.
"He is a very quiet person, but on the other hand he is very responsible and understands what it takes to be at the top level.
"He knows that injuries are part of his career and when it happens all you have to do is to be patient and work your way out."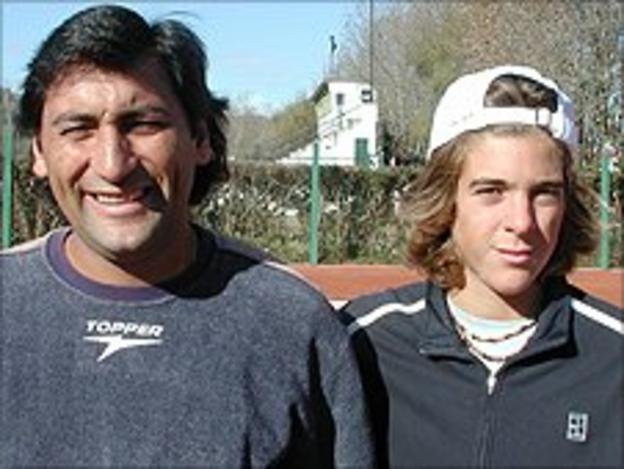 Del Potro is now coached by Franco Davin, but Gomez, still in place at Tandil's Club Independiente, regularly catches up with his protege at Del Potro family barbeques, and insists his former charge is not the type to be cowed by a challenge.
"He was a hard worker, obsessed with training. When things did not go right he practised until he achieved them," he said.
"He is very competitive and fights like an animal. When it came to losing he would be upset for a moment and then quickly wanted to play another tournament.
"This year is a process of recovery and strengthening, and it is very important to play many matches in a row.
"Juan Martin has tennis talent to win another Grand Slam. I have full confidence in him."
Considering Gomez has brought through Juan Monaco, Mariano Zabeleta, Maximo Gonzalez and Diego Junqueira, all current or former top-70 players, from Tandil's relatively small population, Del Potro might do well to consider the tips he offers for ways to defeat Djokovic.
"His game before his injury was very strong, but I believe he can improve if he works on playing off his first serve, closes more points at the net and improves his slice to vary his attack and defence," said Gomez.
"And keep using that inside-out forehand, that is so damaging!"
With questions over Del Potro's match fitness, that shot may not be enough to derail Djokovic's charge.
But if it creates as many dents in the scoreline as when he last faced a world number two at Roland Garros, it will be some way to confirm his return.