French Open quotes - day five
Last updated on .From the section Tennis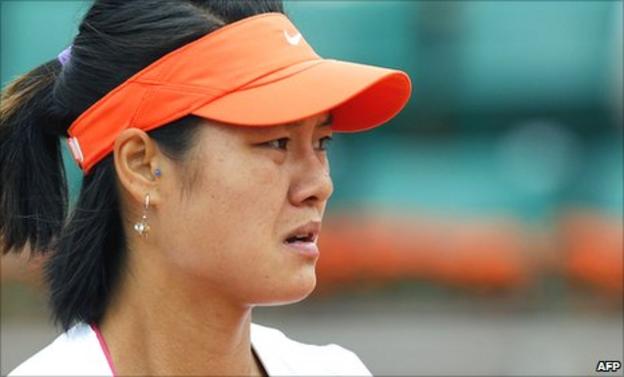 "It's tough. It was an opponent who I had never seen before. Also, I asked many players for information, but got back zero. Nobody knew what this player looked like. So at the beginning of the match, I was a little bit surprised." Li Na explains her familiarity - or lack of - with opponent Silvia Soler-Espinosa.
"You don't have a choice really when you are out on court - you just play with it or against it. Sometimes you have to be friends with the wind, and maybe it can help you." Li may not have know much about Soler-Espinose but she knew all about the weather.
"I was really comfortable in the wind. Compared to where I grew up, that would have been a pretty nice day in Vero Beach. When you go into matches, any variables usually tend to be an equaliser, except for the wind. I like the wind - growing up in Florida, I played in those conditions quite a bit." Mardy Fish finds coping with the gusty conditions a breeze as he blows Robin Haase away.
"The toughest thing for tennis players is when the wind is not consistent. It was swirling the whole time so sometimes you would throw the ball up to serve and you would feel it was blowing it towards you. Then when you throw it up again, it would change and the ball was blown forward. With the wind you play with more top-spin and against it you hit the ball flatter, but it was changing during rallies so there was no real rhythm, and your legs get tired too because you are doing so many small adjustment steps to try to get yourself in the right position. And the wind is a big leveller, because it is very difficult to get a lot on your serve. Luckily I managed to do that right at the end." Fair to say Andy Murray did not enjoy the wind quite as much as Fish.
"Girl sharapova is playing is going to be No.1 in world one day caroline garcia, what a player u heard it here 1st." Murray tweets when Caroline Garcia is leading Maria Sharapova 6-3 4-1. The 17-year-old goes on to lose 3-6 6-4 6-0.
"I'm happy that I gave myself an opportunity. If I had said: 'It's better not to come [to the tournament]', that would be the attitude of a real loser." Kim Clijsters takes the positives from her shock defeat by 114th-ranked Arantxa Rus.
"I guess I am still trying to figure that out." Clijsters wonders where it all went wrong.
"I started doubting a little bit. When you start doubting yourself on any surface, but for me definitely on clay, it's the wrong attitude to have." The world number two eventually figures it out.
"Kim is my hero." A glimpse of Rus's youthful exuberance after her stunning win.
"Maybe it is because I like playing best of five-set matches. These are very long, physical matches and personally I love playing them. Even if you do feel a little down for a while you have more time to recover than a three-setter. In those matches, if you lose a set you are almost finished where as here, if you go one set down, you have many more sets to recover." Fernando Verdasco reveals his appetite for the long battle.