French Open quotes - day six
Last updated on .From the section Tennis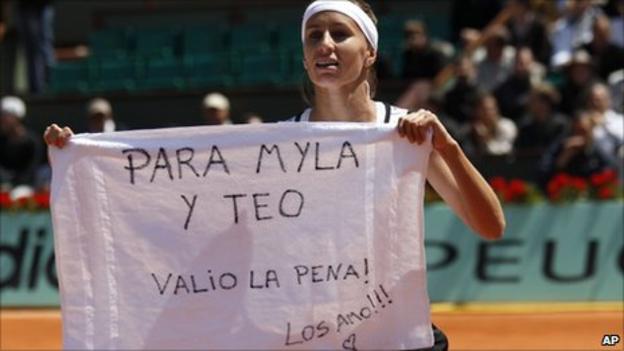 "The fact I couldn't be with my nephews yesterday in Buenos Aires, this was something very important to me. But, as I wrote on the towel, it was worth it. I think it's one of the most important matches for me, emotionally speaking." Sam Stosur's conqueror Gisela Dulko on her improvised written message to her brother's new-born twins.
"I'm not going to walk away from here thinking I've lost all my chances and my time is over." Stosur maintains a positive mental approach after her defeat.
"Since we're number one and two, it means that we must be doing something right. It's just unfortunate to lose in a Grand Slam." Caroline Wozniacki on both herself and second seed Kim Clijsters being knocked out.
"I definitely feel like I'm actually enjoying it more than ever before. That's a good sign and we will just see what results it's going to bring me." Daniela Hantuchova celebrates her victory over Wozniacki.
"I was really unlucky - I always had to face the Williams sisters." Hantuchova explains her modest previous record in Grand Slams, which has seen her reach only one semi-final.
"It was jogging shoes with jeans and a practice shirt, now I dress more accordingly to where I'm going and have started taking a joy in putting on suits. Maybe I have 25 or 35 [suits], I'm not sure. I think it's important to offer something different to the fans and important you enjoy it, and I do." Roger Federer on the change in his views of fashion and clothing generally off the court.