French Open quotes - day nine
Last updated on .From the section Tennis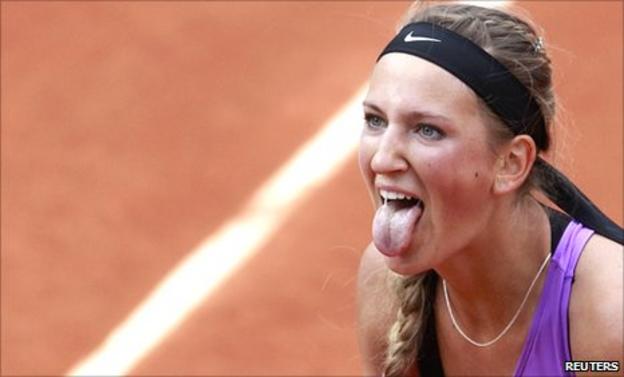 "I'm in a different chapter of my career. It's going to be a different quarter-final for me. But I'm feeling really confident and I'm really looking forward to it." Victoria Azarenka sweeps past Ekaterina Makarova and feels the time has come to break her Grand Slam quarter-final hoodoo.
"I don't like clay courts, but I'm still in the quarter-finals. For a professional player, if you don't like the arena, the weather, the surface, you still have to play the match. You have no choice. You have to challenge yourself to play." Li Na looks forward to her last-eight meeting with Azarenka - but does little to hide her lack of affection for the red dirt.
"Walkover from Fognini. Bad luck for him, hope he recovers fast. Today I get to enjoy Paris in a different way :-)" Djokovic marks his progress to the quarter-finals with a celebratory tweet.
"I'm not playing well enough to win this tournament." Defending champion Rafael Nadal assesses his chances of lifting a record-equalling sixth Roland Garros title after a low-key victory over Ivan Ljubicic.
"I think now he has four matches under his belt and if he manages to win the next one he's back in business. I think today's match is going to give him quite a lot of confidence." Ljubicic paints a rosier picture of Nadal chances.
"Now I need to recover and at some point I'll stop losing against this Swiss." With five defeats from six matches against Roger Federer, Gael Monfils plans to stop the rot when they meet in Tuesday's quarter-final.
"From the beginning, I had quite a slow start today. I think the one thing that saved me in the first set was the fact that I served really well and kept her off balance. It gave me confidence and gave me a chance to be up in the second set. She had so many chances. It was really tough but I played smart when I had to be smart and I was patient." Maria Sharapova keeps remains on course to complete the career Grand Slam and hails her serve - the one part of her game that has let her down in recent years.