What's wrong with Rafa?
By Piers Newbery
BBC Sport at Roland Garros
Last updated on .From the section Tennis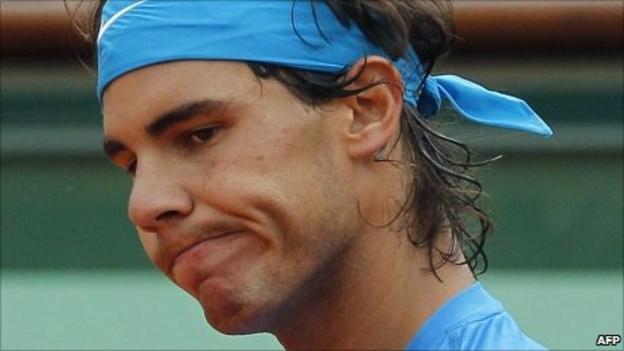 When Rafael Nadal reclaimed the French Open crown last year after an unexpected 12-month hiatus, there seemed to be no prospect of him giving up the trophy again any time soon.
The Spaniard had won five times at Roland Garros by the age of 24 and speculation over whether he could match Bjorn Borg's record of six victories seemed redundant - the talk was of 10, maybe even 12 titles.
A third straight-sets victory in succession on Monday, this time took Nadal back into the quarter-finals again - and yet all is not well with the world number one.
Title number six remains very much on but, since being taken to five sets for the first time at Roland Garros in the first round, the scorelines have been comfortable but the performances less so.
But if his form on court has been patchy, Nadal remains ruthless in the press room - searingly honest and refusing to duck a stream of questions about his game, his fitness, his mind.
"Seriously, I am not confident," said the Majorcan after the win over Ljubicic. "I am not playing well enough to win this tournament with the level today. It's true. You have to be realistic.
"Today I am not playing well enough to win this tournament, we will see after tomorrow if I am ready to play at this level. I won the final five times already here; I didn't have an obligation to win six."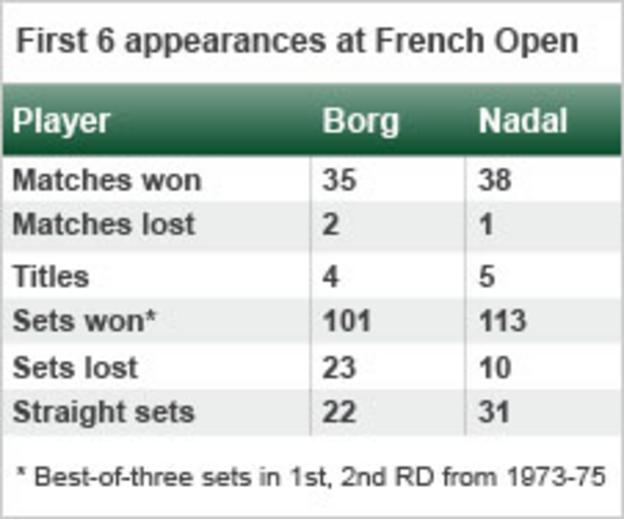 In years gone by, Nadal was able to win the French Open without being at his best, and his analysis of his own record at the tournament is fascinating in itself.
"In 2006 I think I didn't play well the whole tournament; in 2007, normal; 2008, yes, I played fantastic, especially quarter-finals, semi-final and final; 2009, I think I played terrible all tournament; 2010 - so-so, semi-finals and finals much better."
Whatever you make of Nadal's assertion that he has ever played "so-so" in Paris, he knows that will not be enough this time around. Everything has changed this year because of one man - Novak Djokovic.
Nadal cut a despondent figure after his victory over Ljubicic and he knows that his number one ranking will go to Djokovic soon, as early as Friday if the Serbian wins his semi-final.
The Spaniard is a victim of his own success in that regard, having accumulated a mountain of points to defend from his amazing run last year that took in the French, Wimbledon and US Open titles.
Djokovic's celebrated unbeaten run, currently standing at 43 matches stretching back to November, has included many notable victories, none more so than back-to-back wins over Nadal in the clay-court finals of and
"I'm having a very good year, one player is playing better than me - that's all," said Nadal. "I'm in a good position to finish the year in a very high position in the ranking.
"For me it's not an obligation to play well every day. I will be number one, for one more week. The number one cannot always play at the number one level, sometimes he can play the level of number 30 or number 10.
"You are number one because most of the days during the season your level is regular, and even if you are not playing that well you keep winning."
With the top ranking apparently gone from his grasp, Nadal's immediate focus is on keeping the title he has owned for five of the last six years out of Djokovic's hands.
Theories abound as to why Nadal is looking so much more vulnerable this year, foremost among them the new balls being used that the players almost universally say fly faster and benefit hardcourt specialists - although the tournament insists the balls are produced in exactly the same way as the previous ones.
The fact the new balls are manufactured by Nadal's racquet sponsors might make it tricky for the Spaniard to voice his opinions on that subject, but he seems far more concerned with the basics of his game.
"I think I'm still playing a little bit too anxious," he said. "I have to hit the ball with a little bit more conviction, in my opinion. I have to repeat the same points, because at the moment I play a few good points and after I have a few bad points. That's the biggest issue for the last part of the tournament for me."
Earlier in the week, Nadal said that sometimes he feels like he has been playing "for 100 years" and again, on Monday, he admitted to being "a bit tired right now".
If he is to match Borg's record on Sunday, Nadal knows that he cannot afford any more below-par performances as he heads into the final stages.
Standing between him and a semi-final place is Robin Soderling, the Swedish fifth seed who caused one of the great tennis upsets by inflicting on Nadal his only defeat to date at Roland Garros in the fourth round two years ago, before the Spaniard took revenge in last year's final.
Nadal knows he needs a serious step-up in performance but he has no idea whether the form he requires is around the corner.
"I don't know," he said. "I'm not a genius and cannot predict the future. If you are not optimistic then you're never going to find the solution. I think I have the mind open enough to keep finding solutions and keep fighting every day to find the better performances. I'm not that far away, so that's positive.
"The next round is going to be a very important match in this tournament for me. If I win it's going to be a very important victory for me. If I win the next match it will be because I'm playing well. And if not, I'm on grass practising next day."