French Open quotes - day 11
Last updated on .From the section Tennis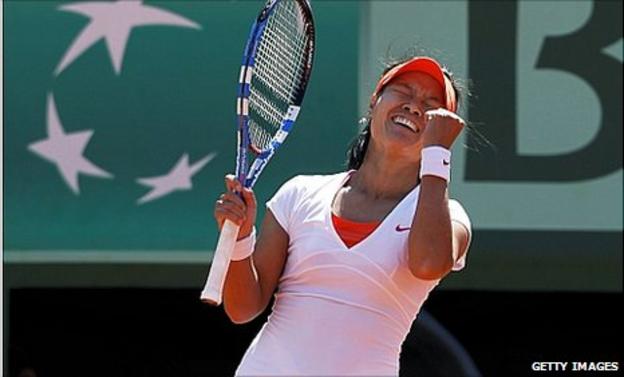 "I think she played long. There were very strong balls, but she plays very long balls, as well, and you can't attack on her balls," Andrea Petkovic with a vivid account of her match with Maria Sharapova.
"There's no doubt there were tough moments. I don't think without tough moments the good ones would feel so good. I have certainly put in a lot of work, I was never hesitant. I always tried to push myself as much as I could." Sharapova toasts her run to a Grand Slam semi-final for the first time in more than three years.
"I don't remember the last time we played but I'm very excited to be in the semi-finals," If she manages to recall it, Sharapova will be hoping to avoid a repeat of her last meeting with Li Na - a 7-5 6-1 defeat in Birmingham in June 2010.
"After I won the match, I was feeling, 'Wow! I can play in the semis at Roland Garros'. I never thought about that before. So many people think I'm not so good on a clay court, but I think now they should change their minds a little bit." Li Na revels in proving herself and her doubters wrong with victory against Victoria Azarenka.
"The best player in the world today against the best player in history, so it's difficult to say. I think both of them have chances to be in the final. Djokovic is playing fantastic, Roger did very well during all of this tournament." World number one Rafael Nadal heaps praise on his two closest rivals ahead of their semi-final meeting.
"I said two days ago I am not playing good enough to win Roland Garros. We will see in two days. That's what I said. And today I played better. Much better, in my opinion." Nadal celebrates his return to form.
"It's always difficult to play when it is windy but it's the same for both players. At least I tried. I'm really happy with the way I finished the match. He played a good match as usual, he didn't miss much." Robin Soderling seems anything but upset with his straight-sets defeat by Nadal.
"I'm surprised I'm here, to be honest, because I haven't actually played that well. That's a very good sign for me because a few months ago I was not playing well and losing badly." Andy Murray surprises even himself with his run to the French Open semi-finals.
"I think he can win Grand Slam tournaments. He's a very complete player and he can mix it up a lot. He does everything well and he can play against any player." Juan Ignacio Chela utters the words every British tennis fan wants to hear.
"What I like is to play a bit slower with higher balls, and I was able to play that game." Rafael Nadal finds his 'A' game against Robin Soderling.