French Open: I can beat Rafael Nadal, says Andy Murray
By Piers Newbery
BBC Sport at Roland Garros
Last updated on .From the section Tennis
Andy Murray says he must be mentally strong and at his tactical best if he is to beat world number one and five-time champion Rafael Nadal in Friday's French Open semi-final.
Nadal has suffered just one defeat in six visits to Roland Garros, racking up 43 victories and moving to within one title of Bjorn Borg's record six French Open successes.
But Murray insisted: "I can definitely win."
The British number one has battled his way through to a first semi-final in Paris despite an ankle injury sustained in the third round and admits he has not played at his best so far.
"I feel I can do it," said the 24-year-old Scot. "It's just making sure that, come Friday, I play my best tennis. I have to play a very consistent match and I have to be mentally strong. Tactically, I'm going to have to be very good."
The pair have met 14 times before, with Nadal having won 10 times including their last match - a dramatic three-set semi-final at the ATP World Tour Finals in November.
Nadal, who turns 25 on Friday, has also won all three of their matches on clay, although Murray will have taken encouragement from his performance in the recent Monte Carlo semi-final, but taking on the Spaniard at Roland Garros is a different test altogether.
"It's one of the best challenges in tennis," said Murray. "Obviously his record here is, well, it's incredible. Definitely I look forward to it. I understand obviously it's going to be an incredibly difficult match for me."
He added: "I know Rafa will play excellent tennis against me on Friday. Pretty much every time we've played we've had some really good matches and he's always played well. Even in practice he plays well against me, so I don't expect him to play badly on Friday."
Murray has won two of their five Grand Slam meetings, but it was the Briton's recent narrow defeat on clay by the seemingly unstoppable Novak Djokovic in Rome that particularly caught Nadal's eye.
Djokovic remains unbeaten in 2011 but Murray got as close as anyone to ending that run, at one point serving for the match in the Italian capital.
"In Rome, I think he played a fantastic match in the semi-finals against Djokovic," said Nadal. "He was the closest player to beating him this year."
Murray, too, took heart from that display, saying: "It was definitely one of the best clay‑court matches I played. The tennis was very high level. For the most part, it was very good.
"And also my match with Rafa a couple weeks before in Monte Carlo was a very high level, but I have to maintain that for a long period. I'll have to play as well as I did for those days to give myself a chance."
Nadal openly spoke of his struggle for form during the opening days of the tournament before impressing with a straight-sets win over fifth seed Robin Soderling in the quarter-finals, but he expects fourth seed Murray to pose a real threat.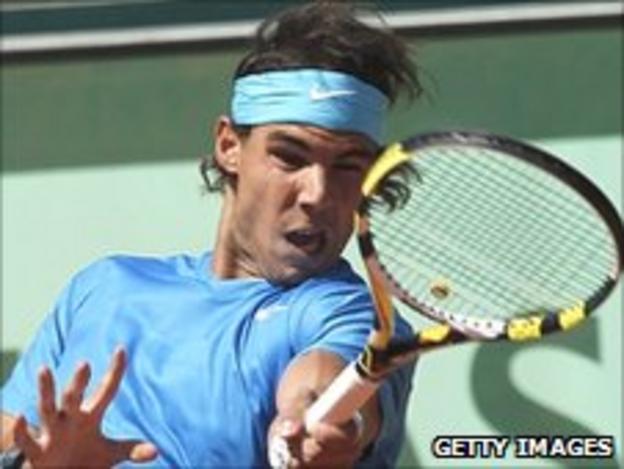 "I prefer playing against an easier opponent, that's for sure," said Nadal.
"But to play against Andy always is a big challenge, because you know how good he is, and his talent is difficult to compare with a lot of players, in my opinion.
"He has all the shots. He can defend very well; he can attack very well; he runs fantastic. The only way that you can beat him is playing at very, very high level. It's not going to be impossible. That's what I'm going to try."
And asked whether he expected Murray's ankle injury to be a factor in the semi-final, Nadal said: "I believe that Murray was able to play five‑setters lately and I don't believe the fact that he has some pain in the ankle will limit his performance at all.
"It happened to me also to have some pain. The issue is how you resist the pain. I believe that, as the tournament goes on, you improve every day and you don't think about what you feel.
"I think on Friday he will have no pain anymore. He'll be 100%. He's a very special player; he has a lot of talent."