French Open quotes - day 12
Last updated on .From the section Tennis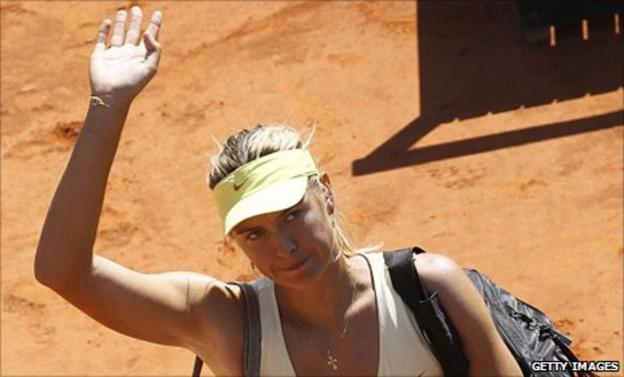 "As an athlete you want to win. There's no doubt. But, you know, good retail therapy and I'll be fine." Maria Sharapova plans to hit the Paris shops to cheer herself up after losing her semi-final against Li Na.
"At times I didn't serve well and was rushing more than I had to. Considering the conditions, maybe I was just trying to go for too big second serves especially." Sharapova explains her 10 double faults, including one on match-point.
"It's great that I have an opportunity to win all four. It didn't happen this year but if I won another Grand Slam, whether it's here or not, I think it will mean just as much and even more to me in my career than having it to be all four on different surfaces." Sharapova is unconcerned that the French Open is the only Grand Slam she is yet to win.
"I never believed I could be in the final of the French Open." Li Na, who had never been past the fourth round at Roland Garros in four previous attempts, on her hopes going into the tournament.
"It proved a little bit about Chinese tennis. They showed the match in China and maybe many children saw the match and thought maybe they can do the same or even better." Li on what her win might mean in China.
"I'm excited. This is my first time in the final so I just need to take one more step and then my dream will come true." Li is seeking to become the first Chinese winner of a Grand Slam.
"The crowd helped me a lot." Defending champion Francesca Schiavone thanks a small band of noisy Italians who cheered her on to victory against French hope Marion Bartoli.
"When I was young, I always dreamed about this tournament, so it is coming from a long, long time ago. When I come here, I feel something special." Schiavone, who has now won 13 successive matches at Roland Garros, feels the Paris magic.
"I think I handled the pressure well but Francesca played extremely well with the conditions. It was extremely windy, and I think she used those conditions very well." Marion Bartoli on how carrying the hopes of a nation - and the weather - affected her game.
"I think she played an amazing year starting in the Australian Open final and she is a great person. It will be tough but this is tennis, someone has to lose." Schiavone on her hopes of beating Li Na in Saturday's final.