French Open: Rafael Nadal too strong on clay - Andy Murray
By Piers Newbery
BBC Sport at Roland Garros
Last updated on .From the section Tennis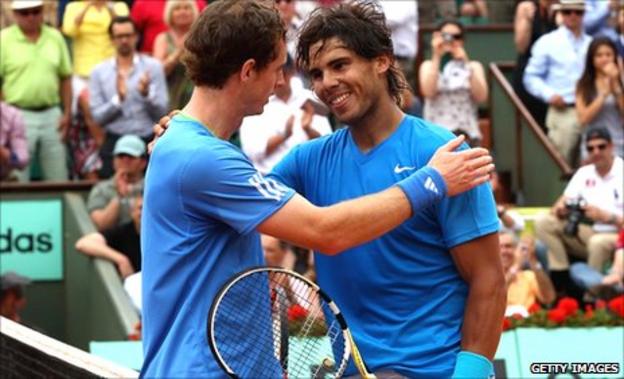 Andy Murray conceded he was outplayed by Rafael Nadal in their French Open semi-final and described the Spaniard as the greatest clay-courter ever.
Nadal won 6-4 7-5 6-4 in over three hours to move within one victory of matching Bjorn Borg's record six Roland Garros titles, but Murray already has him down as the best on clay.
"He's an unbelievable player; he's one of the best players ever," said the British number one.
"He's for sure the best clay-court player ever and all those things add up to it being a very difficult match when you play against him here."
Murray, who revealed he is doubtful for next week's Aegon Championships at Queen's Club as he continues to monitor his ankle injury, felt he could have done little more against Nadal.
"I was pretty happy with the way I played for the most part," said the Scot. "The end of the match was fine but the start of the match was very difficult - a lot of wind.
"Everyone seems to think it's easy against Rafa to just come into the net or come in and go for big shots, but you do have to be very patient.
"Sometimes I didn't quite get the ball I was looking for, and sometimes when I did I made a few mistakes, but I think it was a close match. I didn't think there was too much in it, he just played better than me today. That's the difference."
Murray, a columnist for the BBC Sport website, could at least reflect on a clay-court season that took in semi-finals in Monte Carlo, Rome and Paris - a significant improvement on previous years and on the months that followed January's Australian Open final defeat to Novak Djokovic.
"It's been by far the best clay-court season for me in terms of the way I've actually played on this surface," he said. "I've had decent results before, but I feel like I played a lot better.
"When I played against Rafa or Novak, I didn't feel like I was out of place, whereas sometimes before when I played Rafa I was moving badly, I didn't know where his [shots] were going.
"I feel like I'm playing a lot better, so going into the grass I've got to take positives from that, but I also need to look at things that I need to work on, not only for the grass-court season but beyond that as well."
Djokovic, Nadal and Roger Federer stand above Murray in the rankings and are all multiple Grand Slam winners, but the 24-year-old Briton remains optimistic he can break their hold on the major titles.
"I've won against Roger and Rafa quite a few times; I've won against Novak quite a few times. Every year our tennis gets better, and like I said at the beginning of the clay-court season to the guys that I work with, I feel like tennis has gone to a different level than it was physically.
"And in terms of the standard, even in comparison with two years ago, I feel like players are quicker. I feel like they're hitting the ball harder. I feel like everyone has improved a lot.
"I'm going to need to get even better if I want to get ahead of those guys."
Nadal was pleased with the way he played the big points and felt the fact he managed to stay in front for the whole match had been important.
"It's true I saved a lot of break points," said the world number one and defending champion. "I played well in the important moments. But another thing that's true is I had the score in my favour all the time.
"He had good chances. In the third set I had to save a lot of important moments with my serve. To win these kind of matches, it's always the small things that matter.
"The player who plays better on these kind of points, or who is a little bit more lucky, has the better chance to win. Today I did. For that reason, I am in the final."
Nadal had encouraging words for Murray, who he expects to be a major threat at Wimbledon and beyond.
"I always liked Andy a lot as a player and as a person," the Spaniard added. "Every time that I beat him in these kind of matches, I feel sad for him, because he deserves to win a grand slam for sure.
"In my opinion he's going to do it because his level and his talent is fantastic. He needs a little bit of luck sometimes, but he's improving on every surface.
"I always said he's a very complete player and he has the chance to play very well on all the surfaces. Clay is not an exception. He's doing better and better every year and he had a fantastic clay-court season.
"Right now is the start of grass for him. I think he's a good player on grass, and especially on hard later he will have very good chances to have a fantastic year."