French Open quotes - day 13
Last updated on .From the section Tennis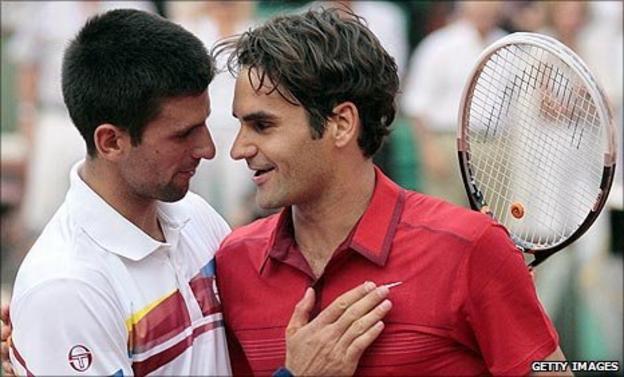 "It was the best five months of my life." Novak Djokovic after Roger Federer ended his 43-match winning streak.
"I wasn't here to spoil the party. I was just trying to put in a good match and get to the French Open final." Federer feels bad about ending Djokovic's winning streak.
"Rafa is a better clay-court player than me." Straight-talking Andy Murray is unafraid of brutal honesty after being outclassed in straight sets by Rafael Nadal.
"At the start of the clay-court season there's no chance anyone was thinking I'd be in this position. I'm happy that I managed to put myself in that position today." Murray takes some positives from his defeat.
"I have always liked Andy a lot as a player and as a person. Every time that I beat him in these kind of matches, I feel sad for him, because he deserves to win a grand slam for sure." Nadal adds all-round nice guy to his status as world number one tennis player.
"I have a lot of respect for the great [Bjorn] Borg. But for me the most important thing is to win Roland Garros, not equalling Borg's record." Nadal insists he is unconcerned with making history.
"It's a good present because he [Nadal] had been struggling against him lately." Federer thinks he has done French Open final rival Nadal a favour on his 25th birthday, given that the Spaniard has lost to Djokovic in their past four matches.
"I'm not old. Why do you think I'm old? I feel I'm still young." French Open finalist Li Na champions the merits of relative maturity on the women's tour.
"Okay, we only have about 70 million. But we have big hearts." Italian number one Francesca Schiavone, Na's opponent in Saturday's women's final in Paris, admits that she may not have as many compatriots rooting for her as her Chinese opponent.