Wimbledon: Anne Keothavong on the women to watch
By Piers Newbery
BBC Sport
Last updated on .From the section Tennis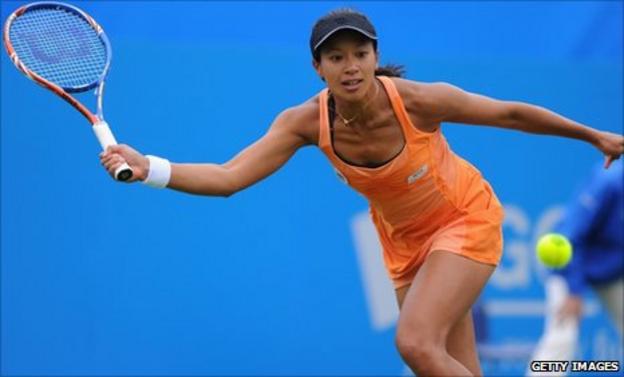 British number three Anne Keothavong is about to play her 12th Wimbledon, and she gives BBC Sport the lowdown on who she will be looking out for in the women's draw.
Li has a lot of belief going into Wimbledon, and she's my favourite to win the title. She's very focused after winning her first Grand Slam title on clay, her least favourite surface.
I spoke to her in Eastbourne and she knew it would be manic back in China with all the publicity, so she took a few days off with her husband in Munich just to regroup.
She's got a great game for grass, she hits very flat off both sides, and although she's a big, strong girl, she moves very well and is always in position. Last year she did well, making the quarters before losing to Serena. She's very chatty and open, with a wicked sense of humour, and she'd be a popular winner too.
SERENA WILLIAMS
The Williams sisters have been great for women's tennis and they do have an aura about them.
Serena has been out of the game for a long time but she wouldn't come back unless she was ready for the competiton. Despite the injuries, she is well prepared. She's won so many Grand Slams and her record at Wimbledon is brilliant.
I've only played her in doubles and facing one Williams sister is hard enough, but with both of them across the net it was the one time on court when I've felt really intimidated. They don't hold back. There are actually a lot of other girls out there who hit the ball as hard as Serena does, but she's relentless. She's Serena Williams, one of the greatest tennis players ever, and I think moving her up the seedings to eighth is fair. She's got to be up there.
VENUS WILLIAMS
Venus is serving really well, and she wouldn't have played Eastbourne unless she thought she was physically ready either. The Williams sisters come back and play well no matter how long they've been out.
I don't think they doubt themselves at all. As Venus said last week, when she's at a tournament she expects to win it. On grass, she's got a big game, and for someone so tall her movement is good. Her serve comes down from such a height - not many girls serve it that hard and get it to move as much as she does - and off the ground she absolutely mullers it.
I remember when I played her on Centre Court in 2008, once or twice feeling like I was being knocked backwards. You don't want to back off but when the ball is coming through that fast and hard, physically it's an uphill task.
MARIA SHARAPOVA
After I then expected her to do well in Paris because she was full of confidence, especially having beaten the players she did and in that fashion.
Since Paris, she's been at Wimbledon practising every day, so she's definitely well prepared and, given her results over the last couple of weeks, mentally she must be in a better place than she was at the start of the year.
If you've got a Grand Slam title under your belt already that's a huge thing, it's what every player wants. Like the others who've won Grand Slams, she has a big, strong game and the mindset to do it - win seven matches in two weeks. She's been there, done that and knows what it's all about.
PETRA KVITOVA
Kvitova is definitely one to look out for. Her game is well suited to grass and being a lefty is an advantage. I played her recently and there's no Plan A or Plan B, it's all guns blazing.
She's just going to take on everything she can - the serves and the returns - and, although not the greatest mover, she's almost better when on the run. The number of shots she manages to time and cream up the line when you think she's out of position is what makes it tough to play against her. She also has the experience of having been to the semis already, losing a close match to Serena last year.
Petra's very shy but she's a really nice girl, really polite. I remember seeing her at one of her first ITF tournaments when she was a wild card and probably 15 or 16-years-old. I actually won the tournament, and she lost in the first round to my doubles partner that week, but even then she had a big game and you could see she had a lot of potential.
MARION BARTOLI
Bartoli did well and she's got a good game for grass because she takes the ball so early.
When she's on form, she's very deceptive and can look like she's just swatting from the back of the court on both sides. You don't really know what to expect with her and she could cause a few upsets. And it might help if Pierce Brosnan turns up, as he inspired her by watching her matches when she reached the final in 2007.
It seems like she and her father have been around forever and they're a little bit different, a little bit kooky, and very nice and chatty off the court. Her style is quite unusual and I find it quite tiring watching her, bouncing the ball and doing her little shuffle in between the points, but it seems to work and that's her way of keeping herself energised.
WATSON & ROBSON
They might not be quite ready to win the tournament yet but both Heather and Laura have a lot of potential and there are huge expectations for them. In terms of their games, I think girls are starting to know them a little bit after initially no-one knew what to expect, but they're both capable of winning matches in the main draw of a Grand Slam.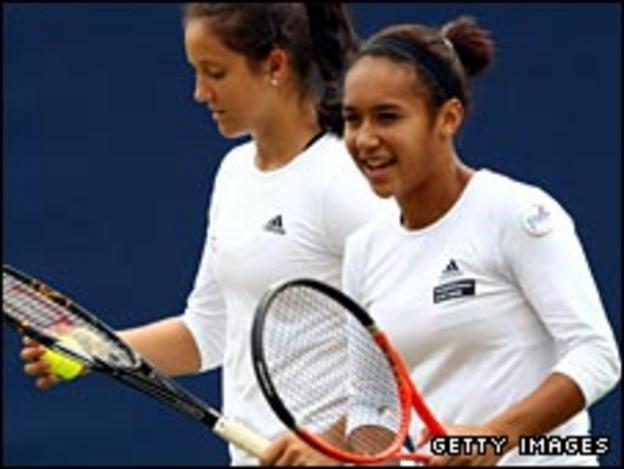 I've known Heather for a while but, having spent time with Laura playing doubles over the last few weeks, I can tell you that they're both great fun. They both have a great sense of humour and it's good they don't take themselves too seriously off the court. It's tough grinding it out week after week, so you've got to laugh at yourself and have a bit of fun.
Laura was the one who told me about planking, which you might have seen me trying on Twitter. I didn't even know what it was, and with the rain delays we've had I've discovered YouTube clips I didn't know existed!