Calm before Wimbledon storm
By David McDaid
BBC Scotland at Wimbledon
Last updated on .From the section Tennis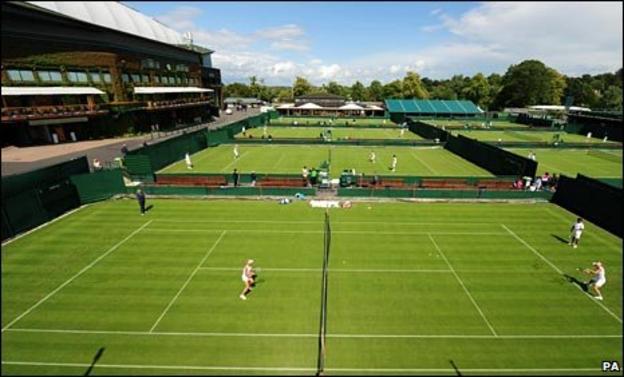 Over the weekend, hundreds of workers at the All England Club have been putting the finishing touches to the grounds for the start of the 125th Championships.
A lick of varnish here, a potted plant placed there, stocking up on Pimms. Lots of it. Crates and crates and crates of the stuff.
Everything will be perfect by the time the gates open to the public at 1030 BST on Monday morning. It always is here.
This weekend is also when most players descend on Wimbledon for some last-minute fine-tuning of their own, getting more hitting time on the grass.
By spending an hour at the Aorangi practice courts, you can - sometimes literally - bump into some of the superstars of tennis.
I barely dodged Maria Sharapova. She's even taller and more imposing than she looks on TV.
Players book time slots on one of 21 courts. Some are more accessible to the media than others.
Rafa Nadal, as ever all smiles, strutted his stuff in full view of TV cameras and photographers.
At such close proximity to his thunderous forehand, it's actually almost impossible to keep your eye on the ball.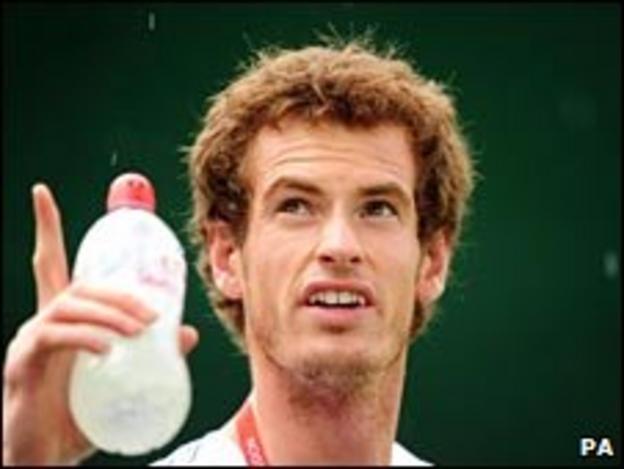 The Williams sisters preferred a more secluded court and you only realised they had been there when they walked (a little gingerly) towards the exit.
To be fair, they're just returning from injury and have only played a handful of matches between them over the last 12 months.
Number one women's seed Caroline Wozniacki chose instead to practice on match Court 18, which last year bore witness to the longest match ever between John Isner and Nicolas Mahut.
I later spotted the glamourous Dane on her way for another hit, bizarrely flanked by two enamoured ground staff carrying rubbish bins.
Andy Murray had also booked a slot.
A couple of characteristic outbursts of frustration aside, the Scot looked chirpy for a man who, during this fortnight, has come to assume the huge burden of Britain's summer sporting expectations.
But, after the barren post-Australian Open spell, over the last two tournaments at Roland Garros and Queen's, he has grown in confidence at just the right time.
Team Murray has grown too for Wimbledon.
Along with his two fitness trainers, physio and knocking partner, keeping a watchful eye over the session was Darren Cahill.
Cahill is the Australian coach who helped both Andre Agassi and Lleyton Hewitt to Grand Slam success.
Murray revealed that he's been consulting Cahill a lot over the last week, whether on the court or even just over lunch.
However, this weekend is the last court time he is likely to spend with the British number one as he is primarily at SW19 to do media work for an Australian TV network.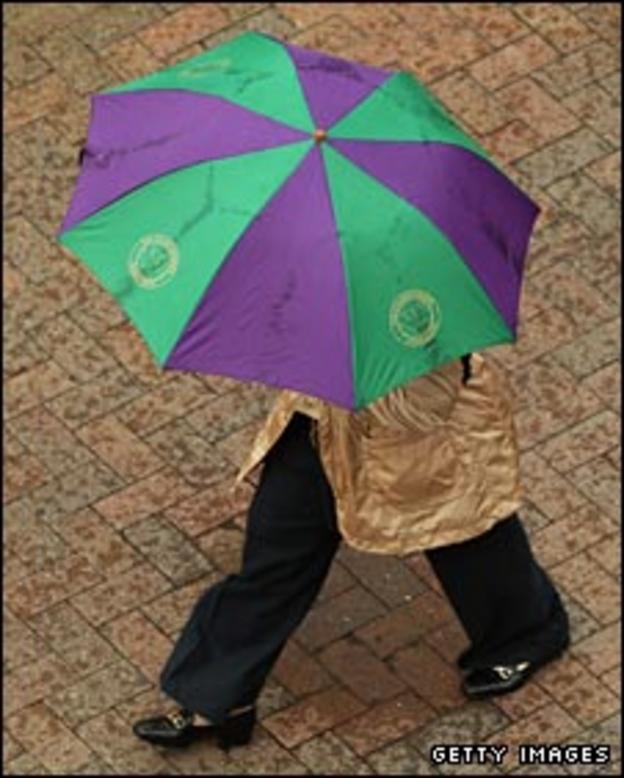 That means the Scot will have to navigate his way through the challenges ahead alone like a Japanese Ronin.
First up on Monday, Spaniard Daniel Gimeno-Traver shouldn't trouble Murray too much, even if it is under a slower, more humid, covered Centre Court.
Given the weather forecast, this is likely.
And, of course, as Nadal and Roger Federer found out last year as they flirted with ignominious first-round defeats, nothing can be taken for granted.
Stanislas Wawrinka, a potential fourth-round obstacle, had a spy in Murray's direction as he made his way to the locker room.
The Swiss world number 14 may prove the sternest test until a semi-final with Nadal.
Even Andy Roddick in the last eight does not hold the same dread on grass as it once would have.
After a second, rain-spoiled knockabout, it was then Murray's turn to visit the media room for questions on everything ranging from his ankle (which is fine, by the way, despite both left and right now sporting identical braces), to whether he had any advice on coping with pressure for China's Li Na and the prospect of facing the Wimbledon kings in week two.
Understandably, right now Murray is shunning all thoughts of Rafa or Roger.
Instead, it's the football cliche of taking it one match at a time.
And he says he won't even think about Gimeno-Traver until Monday morning.