Wimbledon 2011: Ireland's Conor Niland loses thriller
Last updated on .From the section Tennis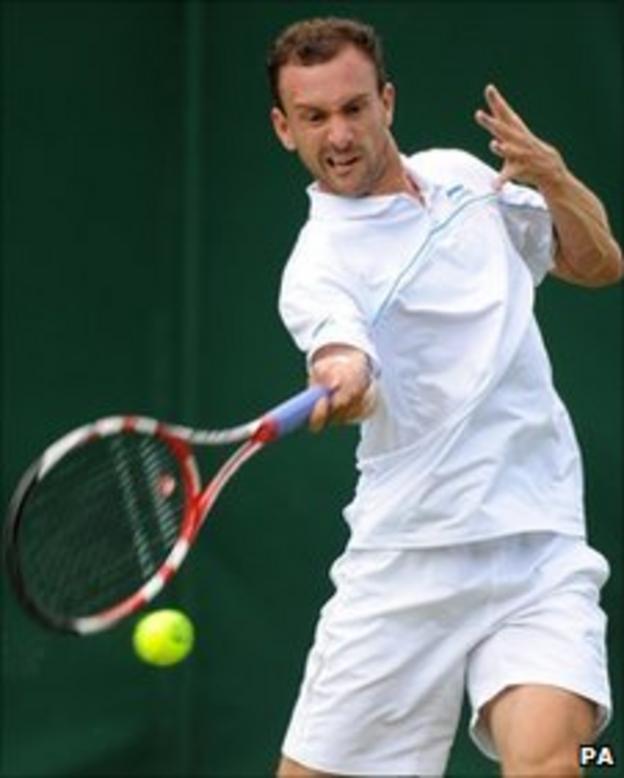 Ireland's Conor Niland suffered a heartbreaking first-round defeat at Wimbledon as he squandered a 4-1 lead in the final set against Frenchman Adrian Mannarino.
World number 184 Niland was on the brink of victory after breaking Mannarino twice in the final set.
But Niland, 29, then lost his serve three times as the world number 55 won 4-6 6-4 7-6 (9-7) 4-6 6-4.
Niland was the first Irishman to qualify for Wimbledon since 1984.
The Limerick man, a regular on the second-tier Challenger circuit, was playing in the main draw at a Grand Slam event for the first time and victory would have earned him a dream second-round tussle with Roger Federer.
American-born Matt Doyle was the last Irish player to compete in the men's singles at SW19.
Niland, cheered on by a vocal Irish presence in the Court-17 crowd, failed to convert six break points in the opening set before making the breakthrough in the 10th game to clinch the set 6-4.
After the next eight games went with serve, Mannarino broke Niland to clinch the second set 6-4 as the Irishman appeared to tire.
The first four games of the third set were all breaks before Mannarino broke again to take a 5-3 lead.
After Niland held, Mannarino faltered when attempting to close out the set and the Irishman then wasted two set points on the Frenchman's serve in the 12th game before the tie-break ensued.
Niland had two more set points during the tie-break before Mannarino edged a 9-7 verdict.
At that stage, the smart money was probably on Mannarino running away with the fourth set but Niland responded with an immediate break and held his serve, staving off two breaks points, to bring the match into the decider.
Niland then broke for a 2-1 lead and another break in game five put him on the brink of victory at 4-1.
But the Irishman appeared to wilt as he failed to win another game.
"Being in control of the fifth set and not executing properly is just disappointing," said Niland.
Mannarino's prize, the clash with six-time Wimbledon champion Federer, made defeat harder to bear for Niland.
"It is the extra thing that does make it a bit more disappointing," he said.
"I want to play on Centre Court. I could have retired if I had won the last two games!
"I have never seen anything like that on an outside court at a slam. I have never seen anything as good as the Irish were today.
"On the Challenger circuit you are not really playing in front of anybody and nobody really cares if you win or lose except your family and your coach."