Wimbledon 2011: What next for Liam Broady?
By Chris Bevan and Paul Birch
BBC Sport at Wimbledon
Last updated on .From the section Tennis
British tennis fans will have high hopes for Liam Broady after his run to the Wimbledon boys' final last week, but is he the new Andy Murray - or the next Miles Kasiri?
Some of you might remember Kasiri. Before Broady, he was the last Briton to reach the boys' final at the All England Club in 2004 before being beaten by Gael Monfils.
What happened next? Not a lot. Kasiri reached a career-high of 556 in the world as a senior, and is now a fitness trainer after retiring from tennis in 2007.
Of course, Kasiri is not the only teenage star from these shores who failed to live up to his early promise.
For every Murray and Tim Henman there is a former world junior number one Martin Lee or under-14 Orange Bowl winner Jamie Delgado, who peaked at number 94 and 121 respectively in the rankings and barely dented the senior Grand Slams.
Will Broady, currently ranked 746th, be different? On the evidence of his performances in SW19, there are a few reasons to believe the 17-year-old left-hander from Stockport could eventually make an impact in the upper echelons of the men's game.
A versatile six-footer, he is fleet-footed with a fierce forehand and powerful two-handed backhand, although he admitted after his three-set defeat by Australia's Luke Saville on Saturday that his serve "needs work".
But it is not just his performances in the past week, or even in winning a warm-up event in Roehampton before he arriving at Wimbledon, that are cause for optimism.
"I was actually at a tournament with him in Zurich in March where I was playing a seniors event and saw up close how good he is," Henman told BBC Sport.
"One of the things we are very bad at in this country is that we get too caught up in junior results, but I just look at him as a player and look at his game. He can really go places and that is what excites me.
"He is very good from the baseline, very athletic, moves very well and possesses the weapons to really hurt you. The world's top 100 is a long way off, but he has a chance and that is more than what you can say for a lot of our juniors."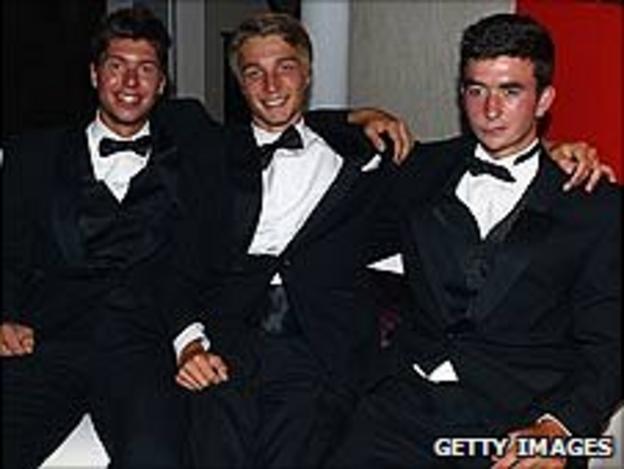 Importantly, Broady - who has been playing tennis since the age of four - also appears to have a temperament to match his talent, saying mental strength is a "big focus" of his game.
True, he lost his cool at times as his match with Saville slid away from him, but similar on-court outbursts actually helped him focus during a marathon quarter-final win over German Robin Kern.
And he also seems comfortable with trying to live up to the increased expectations he will now face despite ultimately missing out on the title.
When asked afterwards if he had felt under pressure to perform in the final because of Britain's long wait for a boys' Wimbledon winner since Stanley Matthews Jr's triumph in 1962, Broady replied: "It's irrelevant to me. I'm my own player and I just play the way I do.
"I've had a bit of the limelight this week and really enjoyed it. I'm going to work harder and try to get a bit more of it.
"I'm disappointed to lose but I'll use it as motivation to come back, train harder, get fitter, get stronger, and try to win it next time instead of making the final. Because it doesn't feel good to lose."
The attention Broady has been getting will undoubtedly help off the court, where finances are a big issue.
He is not funded by the Lawn Tennis Association because of a long-running dispute between his father Simon and British tennis' governing body over the control of his children's careers, dating back to before Broady's sister Naomi, now ranked fourth in Britain, had her LTA funding withdrawn in 2007 after a furore over pictures she posted on social networking site Bebo.
Broady, whose father also downsized their house to pay for his early coaching, now depends on sponsors to cover his expenses on top of his parental backing.
The Nottingham-based player could not afford to travel to the Australian Open earlier this year but is confident that situation will now improve as he looks to build on his achievements at the All England Club.
"You have to have something special to your game to attract attention," he explained. "It is very tough but Wimbledon juniors is one of the biggest junior tournaments in the world, so hopefully I'll be able to attract a few new sponsors."
Broady, who with Oliver Golding, George Morgan, Kyle Edmund and Luke Bambridge is one of five Britons in the junior top 100, not only plans to return to try to win the boys' event next year but says he aims to win the men's trophy in years to come too.
He failed to defend his boys' doubles title, losing in the semi-finals a few hours after his defeat by Saville, but his Wimbledon campaign took another twist when he was asked to practise with Rafael Nadal on the morning of the men's final.
"It's been a fantastic week. Sadly I ended it with the losses at the end but I wanted to finish it in a good way and a positive way and I did that by hitting with Rafa," he told BBC Sport afterwards. "I got asked on Saturday evening, and said 'yes of course'. It was great."
Broady was mobbed by autograph hunters afterwards, another consequence of the last few days, but his success will not change his plans for the next few weeks, starting with a trip to the Patrick Mouratoglou academy in France.
"I will go to Paris for the next few weeks and do a block of physical training," he added. "Then maybe come back to England and do some Futures tournaments - there is one in Chiswick (on 25 July) - before heading for Canada to get ready for the US Open juniors."
At Flushing Meadows he will try to emulate Murray's feat of winning the boys' title in 2004, but however he fares there, the real achievement would be if if he could follow the Scot into the world's top 50.