Britain's Andy Murray routs Laurent Bram in Davis Cup
Last updated on .From the section Tennis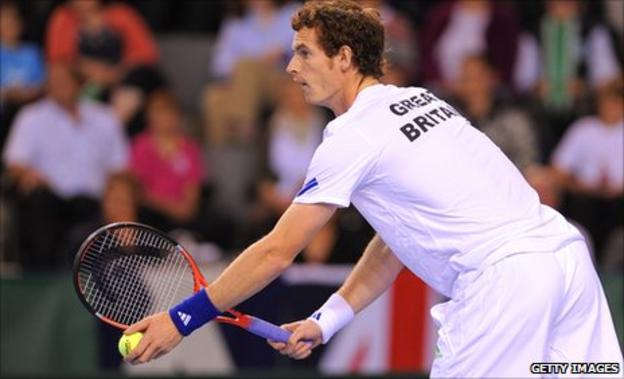 Andy Murray needed only 51 minutes to beat Laurent Bram 6-0 6-0 6-0 as the first day of Great Britain's Davis Cup tie with Luxembourg finished at 1-1.
Bram, 27, who quit professional tennis four years ago, won only 15 points in the rubber as Murray recorded his first whitewash in a best-of-five-set match.
Earlier James Ward lost the first match to Gilles Muller 6-3 7-6 (7-4) 6-1.
Murray will partner his brother Jamie on Saturday as the Europe/Africa Group II tie continues with the doubles.
Unfortunately for Bram, whose highest world ranking was 996 in 2006, he is scheduled to be on the other side of the net again in that match, partnering 18-year-old Mike Vermeer, as the Murrays join forces for the first time in a Davis Cup doubles.
Ward, ranked 187 in the world, who surprisingly reached the semi-finals of the Queen's Club tournament last month, was in disappointing form against Muller, the world number 81.
The 24-year-old was soon 3-0 down in the first set but fought back valiantly in the second against Luxembourg's number one, with a point to level the match at 1-1.
Having failed to grasp the opportunity Ward quickly surrendered the third set, but Murray wasted no time in redressing the balance against Bram, who now makes his living as a tennis coach.
He dropped only five points in winning the first set in 16 minutes and took a minute less to take the second.
Bram won two points at the start of the third set, although both were double faults from Murray, but his next point did not come until the fifth game and Murray soon sealed victory with a deft drop shot.
The world number four's emphatic victory was only the fifth 'triple bagel' by a British player in Davis Cup history.
"It was good fun, it's nice to be back in Scotland. I've not been back for about 18 months and I need to make more of a habit of it. The support I've had here has been so nice," 24-year-old Murray said.
"You want to try and win as quickly as you can. (Bram) doesn't play many tournaments any more so maybe it was tough for him."
Regarding his maiden whitewash he said: "It's a very difficult thing to do so I just wanted to use it to concentrate, it was the thing I focused on, not letting up, trying to lose as few points as possible and try to win the match as quickly as I could
"You look like a prat if you get annoyed when you lose one game, but when you get the chance, I'm glad I did it."
The tie concludes on Sunday with the reverse singles and Britain will hope to secure a promotion play-off against Belarus or Hungary if they can complete victory.
In the higher echelons of Davis Cup matches, the World Group quarter-finals, defending champions Serbia took a 2-0 lead over Sweden in Halmstad courtesy of Viktor Troicki's win against Michael Ryderstedt and Ervin Eleskovic's retirement against Janko Tipsarevic.
The winners of that match will play Argentina, who started their match with Kazahkstan in Buenos Aires on Thursday because of municipal elections on Sunday.
Already 2-0 ahead, they added the doubles on Friday to take an unassailable lead and a seventh semi-final in the last 10 years.
World number six David Ferrer defeated 10th-ranked Andy Roddick to give Spain a 2-0 lead on Friday after the opening day of their tie in Texas.
Spain, seeking their third trophy in four years, had seized the lead in the opening singles when Feliciano Lopez beat Mardy Fish 6-4 3-6 6-3 6-7 (2-7) 8-6 in a four-hour epic.
Ferrer then overcame Roddick 7-6 (11-9) 7-5 6-3.
In Stuttgart, victories for Richard Gasquet and Gael Monfils put France 2-0 ahead against Germany.