Andy Murray says Scotland is antidote to Wimbledon woes

By Annie McGuire
BBC Sport Scotland at Braehead Arena
Last updated on .From the section Tennis
"The weather's the same," is Andy Murray's observation of his return to Scottish soil. "But that's why I love Scotland.
"It's exactly the same as it was when I was a kid."
But it isn't the same. Scotland in 2011 is gripped by a tennis fever that was absent when the Murray brothers were still learning their trade.
Standing inside the Braehead Arena - a sporting venue nestled within a shopping centre - Murray proudly declares that he was born here in Glasgow.
And just a week after his exit from Wimbledon he's glad he'll be returning to action in front of a Scottish crowd when Great Britain take on Luxemburg in the Davis Cup.
"It's made a big difference, everyone's been so positive and upbeat," said the world number four. "And they're happy - I like that.
"It's made me want to work hard and make sure that during the tie I play my best tennis and put on a good performance.
"When I was growing up it was difficult even to practise in Scotland - not many people played. I think now it is starting to change little by little."
That trend was demonstrated by the mobbing Murray experienced when he visited a tennis court in Paisley prior to this weekend's tie - and the growing prominence of Scots in the Davis Cup set up.
While tennis has long been the preserve of the home counties of England, the captain of the Great Britain team Leon Smith comes from Scotland's own leafy enclave: Clarkston.
And bringing the tournament to Scotland is a big selling point for him too.
"Andy, being who he is - if we can bring the tie to Scotland then it is a great occasion and something that he's really wanted to do for a while," said Smith.
"It shows his commitment to the team. He's lost to Rafa Nadal in the semi-finals of Wimbledon, yet two days later he's arriving at the team hotel ready for work. Not many players would do that."
Smith wasn't captain when the Davis Cup last came to Braehead in 2009 but he thinks the venue will be a good one for his side.
"It's great it's been used a couple of times before and it has always created a good atmosphere," added Smith.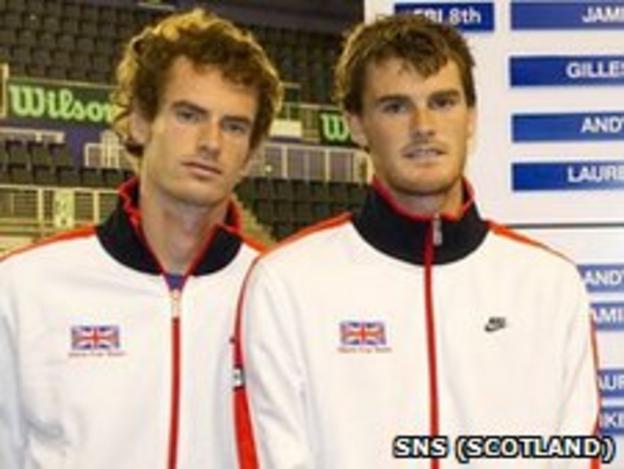 "But I think the special thing about this tie is that Andy Murray is fit and ready to go."
That certainly isn't Murray's memory of his last time playing Davis Cup tennis in Glasgow.
"I was really sick in the build up," said Murray. "I tried to play in the doubles on Saturday but I was feeling really really bad.
"I didn't get the full experience, so I'm looking forward to Friday.
"The people just seem so happy. It's just been great. There's a lot of positivity."
Proof that the Scottish summer can't dampen the spirits of Andy Murray, or of a public eager to see their local hero in action.