Bojana Jovanovski goes to wrong town 900 miles away from match
Last updated on .From the section Tennis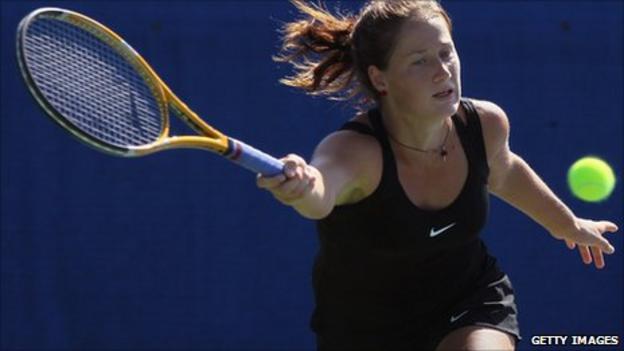 Serbian tennis player Bojana Jovanovski ended up 900 miles (1,500km) away from the venue of her match after travelling to the wrong town.
Jovanovski, 19, travelled to Carlsbad, New Mexico, instead of Carlsbad, California, for the San Diego Open.
After an early-morning flight to the correct Carlsbad, she had just 30 minutes to spare before her match with ninth-seeded Italian Roberta Vinci.
However, Jovanovski's day went from bad to worse as she lost 3-6, 6-4, 6-1.
After competing in the Citi Open in Washington, the teenager flew from the city to Dallas, then onto Albuquerque and finally the incorrect Carlsbad, which is a small desert town.
Upon arrival she said she waited for 15 minutes in a nearly empty airport then got on the phone to tournament transport, which said it was looking for her at the California arrivals hall.
"They said they were at the airport and looking for me," Jovanovski, ranked 53 in the world, explained. "I said I was the only person here."
The official quickly realised what had happened and replied: "Are you in Carlsbad in California or in New Mexico?"
Jovanovski spent the night in the New Mexico town before taking an early flight to California for her first round match.