Injured Novak Djokovic expects to be fit for US Open
Last updated on .From the section Tennis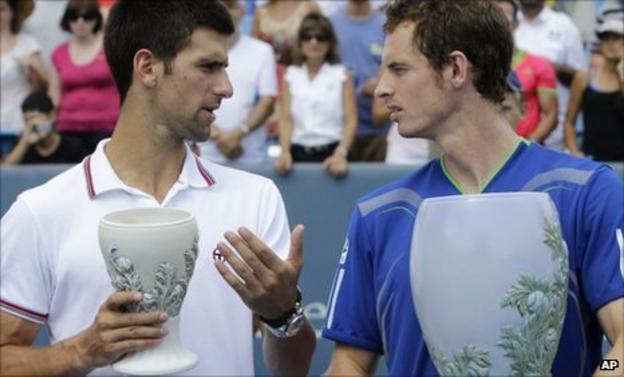 World number one Novak Djokovic expects to be fit for the US Open despite being forced to retire from Sunday's Cincinnati final against Andy Murray.
The Serbian pulled out with a shoulder injury after going 6-4 3-0 behind.
But Djokovic hopes to have sufficient time to recover before play begins at Flushing Meadows on 29 August.
"The good thing is that there is a week, eight days to the start of the US Open," he said. "So I think that's enough time for me to get ready."
Djokovic went into Sunday's final having lost just one match - - in 2011, but any hopes of a 10th tournament victory of the year were ended by the shoulder problem.
He received treatment at the end of the first set and attempted to carry on but failed to win another game.
"I really tried," said Djokovic. "It didn't make sense for me to continue."
He added: "I was generally exhausted playing many matches, but the exhaustion is not the reason. The reason is shoulder pain. I just could not serve.
"I served an average 90 miles per hour the first serve, and I could not play forehands. I could have maybe played another couple of games, but what for? I cannot beat a player like Murray today with one stroke."
Djokovic has won nine tournaments already in an incredible year, including Grand Slam titles at the Australian Open and Wimbledon, but a first US Open victory remains a major target.
"I've played so many matches this year," he said. "I've been winning a lot and reaching the final stages of each event that I've participated in.
"Considering the schedule that is very busy in tennis, it's kind of normal to expect that at some stage you are exhausted. But as I said, I am confident that I can recover and be ready for US Open."
Murray too was looking ahead to New York straight after winning the seventh Masters 1000 title of his career.
"Not the way I wanted it to happen," is how the Briton described becoming just the second man to beat Djokovic in 2011.
"I had a chance, - that was a tough one for me. It's nice to win, but I'd rather beat him in three weeks' time."
And Murray, added: "I've hit the ball better and better as the week went on."