Tennis champion Rafael Nadal considered golf career
Last updated on .From the section Tennis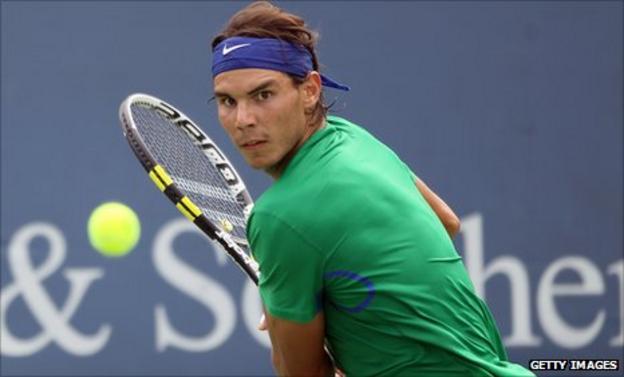 Rafael Nadal has revealed that he considered a move into professional golf after a potentially career-threatening injury.
The 10-time Grand Slam champion has written in his autobiography "Rafa" that doctors discovered a rare foot injury in 2005 that had the potential to sideline him for good.
"(The) diagnosis had initially been like a shot to the head," Nadal said.
"The bone still hurts. It remains under control, we can never drop our guard."
In the book, 25-year-old Nadal describes his toughest on-court battles with Roger Federer at the 2008 Wimbledon final and subsequent Australian Open.
But his off-court problems play a large part in the former top-ranked player's career. His parents' separation hindered his recovery from injuries in 2009, when pride led him to try to defend his French Open title despite his injury problems.
"My attitude was bad. I was depressed, lacking in enthusiasm. (My team) knew something had to give," writes Nadal, with the weight of those problems leading to his only defeat in seven appearances at Roland Garros and his subsequent withdrawal from Wimbledon.
Doctors discovered a congenital bone problem in the bridge of his left foot soon after a five-set victory over Ivan Ljubicic in Madrid, prompting thoughts of a future in golf.
Nadal was friends with the late Seve Ballesteros and said: "I had the chance to meet him and the honour to play 18 holes with him a couple of years ago in Madrid. He was impressive. We all looked at him as a role model."
Nadal labels current number one Novak Djokovic, who has beaten Nadal in five straight finals this year, a "formidable opponent" who is "one hell of a player, temperamental but hugely talented."