Murray v Hurricane Irene
By David McDaid
BBC Scotland in New York
Last updated on .From the section Tennis
What do you do when a Hurricane hits? That was the question most of New York was asking itself over the last few days.
The Metro shut down, shops and restaurant closed, New Yorkers stocked up on food and went into lockdown as a storm larger than Katrina barrelled towards the Tri-State area.
Flushing Meadows cancelled its traditional Arthur Ashe Kids Day celebrations and closed its gates waiting for Irene to hit.
In short, the city that never sleeps went into hibernation.
But, when you're a top tennis star preparing an assault on a Grand Slam, and you're as single-minded as Andy Murray, not even Mother Nature can get in the way.
"I've never experienced anything like this in tennis," Murray told me.
But he had already made arrangements, booking practice time at an indoor court in the city, and chucking in a gym session for good measure.
The US Open is a tournament that Murray fell in love with when he won the junior event here eight years ago.
It was also on the same blue hardcourt surface on which he reached his first Grand Slam final in 2008, losing to Roger Federer.
"All the Grand Slams are different, but this one suits my personality the most," he said.
"The Arthur Ashe centre court has an unbelievable atmosphere.
"There's music playing at the change of ends, they have the night matches - which I've always enjoyed playing in.
"Everyone's normally had a few drinks and the crowd is pretty loud.
"And New York's just a really fun city to be in.
"The sights and sounds are amazing - so many big buildings, so many lights, good places to eat, and things to do. There's just so much energy."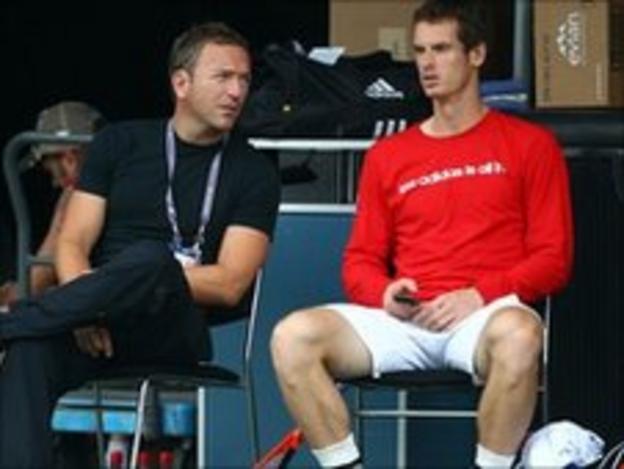 Watching his reception from fans at Flushing Meadows, the feeling appears to be mutual, but you get the feeling he won't be enjoying NYC as much as he'd like to.
"As a player, you've got to be careful," said Murray. "You've got to embrace it but not get too involved in it.
"Because you'll ruin some of your energy for the tournament, so you want to make sure that's all stored up for the start."
Murray's first hurdle on the way to his first Grand Slam is the Indian, Somdev Devvarman, who has claimed a couple of top-50 scalps this year but who shouldn't pose a threat to the Scot.
He may get the chance to exorcise demons from last year in round four, when he could face the Swiss, Stanislas Wawrinka.
However, like Wimbledon and so many other tournaments, once again Rafael Nadal lurks in the semi-finals.
The Spaniard, like Federer, has not enjoyed a huge amount of success since Wimbledon.
And Murray became only the second man to beat the world number one, Novak Djokovic, this year in the final of the Cincinnati Masters prior to arriving in New York.
Djokovic retired with a shoulder complaint, but it was a much-improved Murray following a disappointing first-round exit in Montreal.
So Murray has the best immediate form of the 'Big Four', but can he show that when it matters most and win on the Grand Slam stage at Flushing Meadows?
"I think I can," he said, "Obviously I have to play a great tournament.
"I know it's going to be an incredibly difficult tournament to win, but I feel like I've prepared well.
"It's been a really good week for me and I feel good and ready to go.
"Novak is going to be the favourite; his year's been incredible.
"And Roger and Rafa always play their best tennis at the Slams."
The good thing is that Murray is now beginning to do likewise.