US Open 2011: Quotes of the day
Last updated on .From the section Tennis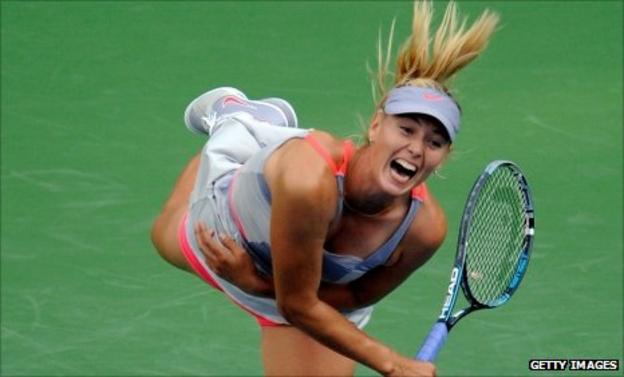 "Glad Sharapova's not playing in Crans this week! They'd hear her in Geneva! Come on Watson finish her off for the sake of our eardrums!" Golfer Lee Westwood joins the Twitter discussion over Maria Sharapova's screaming during her match against Heather Watson.
"She did many things well. She's a great mover on the court. She made me hit a lot of balls. She was really, really steady. She handled pace pretty well." Sharapova is full of praise for Watson after spending two-and-a-half hours on court with her.
"I had a lot of support. I heard some people calling me Cinderella, all sorts of stuff. And just when they were chanting my name, I kind of got the goosebumps." Watson enjoyed her first experience of Arthur Ashe Stadium.
"It's just unfortunate maybe that all the slams are too equal. This should feel very different to the Australian Open and it doesn't. I don't think it's really what tennis needs." Roger Federer criticises the slow pace of courts at Flushing Meadows this year.
"I'm sorry, man, it's very hard to get the accent. I have been talking to Andy many times, so I'm really kind of getting his accent." Novak Djokovic struggles to understand a question from one of Andy Murray's compatriots in the press.
"It was the head." Wimbledon champion Petra Kvitova knows where it all went wrong in her first-round defeat.
"I don't think about it. Are you still thinking about it? That was like two years ago. This is like two years later." Serena Williams is asked about her last match at the US Open in 2009, when she was fined after threatening a line judge.
"I got really popular. A lot of people were telling me they thought I was super cool, that they'd never saw me so intense. So, yeah, it was awesome." Serena has her own take on what that incident did for her public profile.
"No-one is more in 'one-match-at-a-time' mode than me now at this tournament." Venus Williams is in realistic mood as she returns from illness.
"I didn't break any racquets; I didn't say swear words on court. It could have gotten better and I could have been better. I didn't really go nuts." American teenager Ryan Harrison's view of his fiery behaviour during the defeat by Marin Cilic.
"It sucks." Agnieszka Radwanska on being drawn against her sister, Urszula, who she beat in round one.