US Open 2011: Rafael Nadal & Novak Djokovic reach round two
Last updated on .From the section Tennis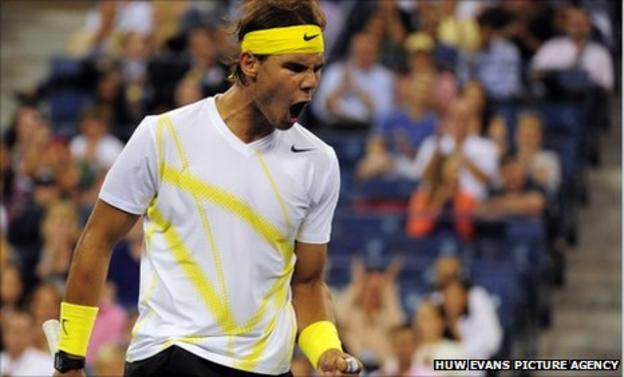 Rafael Nadal opened the defence of his US Open title with a straight-sets win over Andrey Golubev that was anything but straightforward for the Spaniard.
Nadal recovered from deficits in all three sets and saved seven set points in a thrilling second before coming through 6-3 7-6 (7-1) 7-5 in New York.
World number one Novak Djokovic earlier needed just 44 minutes to secure his place in round two.
Ireland's Conor Niland had to retire from their match because of illness.
There were times in the night session that Nadal could do nothing in the face of some extraordinary hitting from Golubev, but the world number 98 from Kazakhstan endured a 17-match losing streak earlier this year and there were plenty of spectacular errors too.
Golubev had a great chance serving at 5-3, 40-0 in the second set but failed to capitalise, and let a double-break lead slip away from 5-2 in the third as the far steadier Nadal prevailed.
"For sure I was nervous," said the Spaniard. "That's normal. It's normal to start the tournament like this with some nerves. I was a little bit lucky to win today in straight sets. He was a very difficult player to play.
"And what happened today, he didn't help because he played very fast all the time. All the shots, he was trying to hit a winner on almost every shot. So it was difficult for me to find the rhythm.
"But it's a positive start winning in straight sets," Nadal said after the two hour, 49 minute struggle. "I'm happy I'm through (to the second round)."
Nadal was broken six times in the match, losing his serve more times than he had during his entire championship run at Flushing Meadows last year.
And the world number two saluted his opponent's performance. He said: "Today, I lost my serve six times. In my opinion, it was not the fault of my serve. It was that he was returning very fast all the time."
Nadal has battled recent injuries and is still also smarting from being beaten five times in finals this season by Djokovic, who supplanted him as world number one on his way to victory over the Spaniard in the Wimbledon final.
"When you are having tough losses like the final of Wimbledon... you need to recuperate after that," Nadal said.
"Everybody knows it's not easy to lose five finals this year."
The unlucky Niland came through qualifying and was playing the biggest match of his life, but walked onto court apparently suffering with food poisoning, and when Djokovic went 6-0 5-1 up, the ailing Irishman admitted defeat.
"I've been feeling pretty rotten for a couple of days and basically it was bad timing," Niland told BBC Radio 5 live.
Asked if he had considered not playing the match, Niland added: "It was something I wanted to do. I thought maybe if there was a miracle I could do OK, but I wasn't able to eat the last two days so I had nothing in my legs energy-wise.
"It was great to qualify. I got a lot out of it and I still got quite a bit out of today.
"Obviously the timing seems pretty cruel to me. I've been a couple of years without getting any sort of food poisoning and to get it two days before the biggest match of my career seems pretty weird."
Not surprisingly, Djokovic had contrasting emotions, saying: "I felt great on the court, and that's something that's really important for the start of the tournament. Today was a great opening performance."
And asked about the shoulder injury that forced him to retire from the recent Cincinnati final, he added: "Today I didn't feel any pain. I served well and I played well, so I have no concern."
Fifth seed David Ferrer and 11th seed Jo-Wilfried Tsonga made it through in the afternoon session.
Frenchman Tsonga enjoyed a 6-4 6-4 6-4 victory over Yen-Hsun Lu of Taiwan opponent to set up a meeting with Sergei Bubka, and Spain's Ferrer will play James Blake after seeing off Igor Andreev 2-6 6-3 6-0 6-4.
"I feel ready, fit and hopefully I will have some good moments here at the US Open. I feel good here, the fans support me and I hope to do well for them," said Tsonga after beating Lu in two hours and nine minutes on Grandstand court.
Stanislas Wawrinka, the 14th seed who beat Andy Murray in New York last year and could face a rematch with the Briton in round four, beat Maximo Gonzalez 3-6 6-4 6-1 6-3.
And Latvia's Ernests Gulbis had an impressive 6-2 6-4 6-4 win over 16th seed Mikhail Youzhny of Russia.