US Open 2011: Quotes of the day
Last updated on .From the section Tennis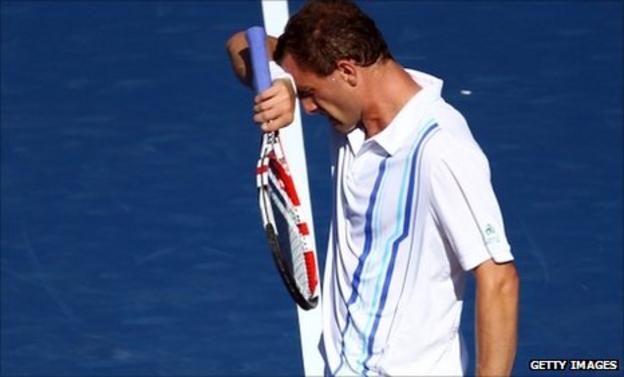 "I got sick everywhere after my 30-minute warm-up. I thought I could bluff my way through but you can't do that against the number one in the world, I just found out. I thought I was going to vomit after long points. I just felt really, really rotten out there." Conor Niland suffers food poisoning ahead of the biggest match of his life against Novak Djokovic.
"I'm definitely trying to keep up. He has something I'm looking for and I have something he's looking for. He wants to be number one, so it's good to have something on each other." Caroline Wozniacki is keen to match golfing boyfriend Rory McIlroy's US Open title.
"I think we should move on. Ask me about something else, something more interesting." Wozniacki has now had enough of discussing her ongoing quest for a first Grand Slam victory.
"I thought it was quite nasty, actually, the umpire said a code violation for time." Elena Baltacha reveals that the umpire stuck to the rule book when Jamie Hampton was writhing in agony on the baseline.
"It's a terrible feeling. Two years in a row, first round here, first round Indian Wells, Miami. Normally I like hard courts a lot. But I think these two years I'm just doing...." We'll leave it to your imagination as to how French Open champion Li Na described her hard-court form.
"He tell me everything is perfect, everything is fantastic. I say, 'Yes, everything is fantastic but I always lose first round.' I mean, this is not fantastic." Li reveals the conversation she had with her coach before the defeat by Simona Halep.
"I'm aware of the responsibility that I have as a present number one to represent the sport in some ways off the court. So I need to do that in a best possible way. You know, I'm trying. You tell me, how am I doing?" Novak Djokovic is doing his best to get serious.
"There is something artistic in the air, free spirits, a lot of creative minds out there. Yeah, it's very vibrant and creative." Germany's Andrea Petkovic seems to have caught the New York vibe.
"I think everyone's light turns on at their own time. I'm starting to feel like mine is turning on." Former 'next big thing' Donald Young is finding his feet at the age of 22.