US Open 2011: Quotes of the day
Last updated on .From the section Tennis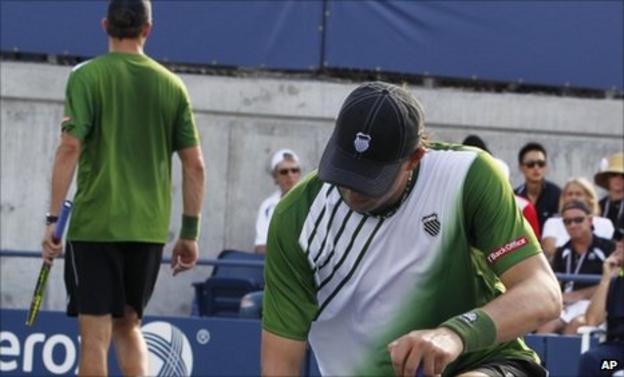 "We're used to being in the second week. It's going to be weird." Mike Bryan on how it feels to lose a Grand Slam first-round match alongside his brother Bob for the first time in 10 years.
"I think she's a tough girl. I think she'll come back." Sabine Lisicki reacts to the news that Venus Williams has pulled out of their match because of illness.
"Trust me, in five years, when they're gone, everyone is going to miss them. Everyone is going to realise they're going to be living legends for the rest of their lives. Two girls from Compton, dominating tennis - that's not an everyday story." Andy Roddick is a fan of the Williams sisters.
"I know that other players are playing much better than me at this moment, especially the top-10 players." Former champion Juan Martin del Potro tries to convince us he's not a title contender.
"Try being a British player going into a Grand Slam. It's not easy." Andy Murray responds to the 'pressure' question with a wry grin.
"He's come so close so many times, in my mind it's just a matter of time before he goes out and wins a Slam." Somdev Devvarman gives his conqueror, Murray, a vote of confidence.
"A guy in the locker room told me, 'You're not playing Soderling'. I said, 'Yes I am'. The Brazilian guy had just told him he got in. Then I got all my stuff and walked on court." Ireland's Louk Sorensen on how he learned that Robin Soderling had withdrawn ahead of their match.
"I wanted him to see me play tennis or at least have a memory of me being a tennis player, because that's what I had with my dad. After he was born, I had a second breath. I want to show him how hard work pays off." Alex Bogomolov Jr on how the birth of his son helped him rebuild his career after surgery.
"We'd literally spend the whole day here, all of our friends, running from court to court, trying to get an autograph, a picture. I got Rafa's autograph. That was exciting for us." Christina McHale, aged 19, makes the press pack feel very, very old.
"He's a talented little guy." Roger Federer on his next opponent, the (officially) 5ft 9in Dudi Sela.